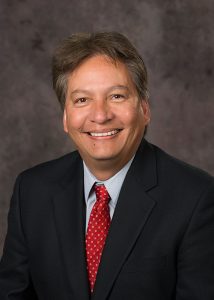 Chris Cornelius has been named chair of the Department of Materials Science and Engineering at Iowa State University. He will hold the Wilkinson Chair in the department. His appointment officially begins Jan. 1, 2021.
Cornelius is currently a chemical engineering professor at the University of Nebraska-Lincoln (UNL) and diversity coordinator for the Mid-American Transportation Center at UNL. He also served as associate dean for research in the UNL College of Engineering. In addition to higher education, Cornelius also has years of industry and professional experience, including engineering and technical positions at the Sandia National Laboratories, 3M and Dow Chemical.
"Chris is an accomplished scholar and administrator who brings a great breadth of experience to this position," said W. Samuel Easterling, dean of the Iowa State College of Engineering. "His broad-based work in both higher education and industry are key attributes that will support the department and the college moving forward."
There are currently more than 220 undergraduate and graduate students studying materials science and engineering at Iowa State. The department encompasses programs in the practical and theoretical aspects of materials, their utilization, and their electronic, physical, mechanical, and chemical properties related to their structure.
"Chris is passionate about providing students the highest quality education, and we look forward to his contributions in this leadership position," Easterling said. "Along with faculty and staff in the department, Chris will play a vital role in developing our future engineering leaders who will make an impact in this world."
In addition to teaching, Cornelius has many research areas and interests, including fundamental material interrelationships; transport of molecule, ion and electrons in complex structures and interfaces; electrospinning organic and inorganic materials; and material surface design. He plans to continue his research at Iowa State.
Cornelius says he is excited about this new opportunity. "I am very fortunate to join an exceptional department with great people that will surround me, and I am equally excited about building a collaborative vision with them and contributing to the excellent reputation of the college," Cornelius said. "I am extremely excited to become a Cyclone – and yes, this is still possible coming from Nebraska as a Husker."
Cornelius received his master's and doctorate degrees in chemical engineering from Virginia Tech, and his bachelor's degree from Montana State University.
The ISU College of Engineering offers 14 undergraduate majors, 20 doctoral and 25 master degree programs, and is the largest college on campus with more than 8,000 students.