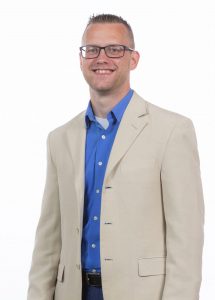 Cary L. Pint, Charles Schafer (Battelle) Chair of Engineering and an associate professor of mechanical engineering, was recently honored for groundbreaking innovations.
First, Pint and his team were designated as winners of a prestigious 2020 R & D 100 Award in the Mechanical/Materials category. This is a worldwide competition that highlights revolutionary technologies as judged by nearly 50 of the world-leading industry professionals across the globe.
Pint and his team were chosen for their work on "Transforming the Production of Carbon Nanotubes using Carbon Dioxide," where he and his team designed a technology to capture carbon dioxide either directly from air or from a stream of exhaust gas and covert the carbon dioxide into tiny carbon nanotubes that are about 1000 times smaller than a human hair, but stronger and lighter than steel.
"This award is so humbling because we started this project in the research lab with mostly fundamental questions, and now a few years later we are chosen for this prestigious award on a global stage alongside some of the biggest companies in the world," Pint said.
Among the award winners in the Mechanical/Materials category this year are companies including Toyota, Dow Chemical, and PPG, among others.
The team of researchers who developed the award-winning technology include Pint and Anna Douglas, a former Ph.D. student from Pint's research team. Together, Pint and Douglas co-founded a company, SkyNano LLC, in 2017, where Pint and Douglas remain as CTO and CEO, respectively.  SkyNano then licensed the award-winning technology from Vanderbilt University, where Pint served on the faculty prior to coming to Iowa State University in January 2020.
Pint notes that the key to the viability of their technology comes from zeroing in on the energy consumption of their electrochemical technique combined with advances to realize the best quality and most valuable carbon nanotubes. Pint's team at Iowa State continues to research this area by targeting the conversion of carbon dioxide into new materials, such as diamond, and also extending this technology to sustainable agricultural processes.
In addition to the R & D 100 award, Pint was also named as a "Top 100 Visionary in Education" by the Global Forum for Education and Learning, a global organization that serves to bring together and empower the brightest minds in education around the world. Pint was evaluated for this distinction based on the overall impact and reach of his research program, but also based on his vision and efforts to combine core education and innovation in a classroom environment.
Going forward, Pint said he sees incredible opportunity at Iowa State University to combine engineering education with innovation and entrepreneurship at both the undergraduate and graduate levels.
"With the extraordinary facilities at Iowa State, combined with the best and brightest students from around the country and world – I am so excited to work toward and be part of a future where learning and doing happen together in a way that sets us apart from other institutions," he said.