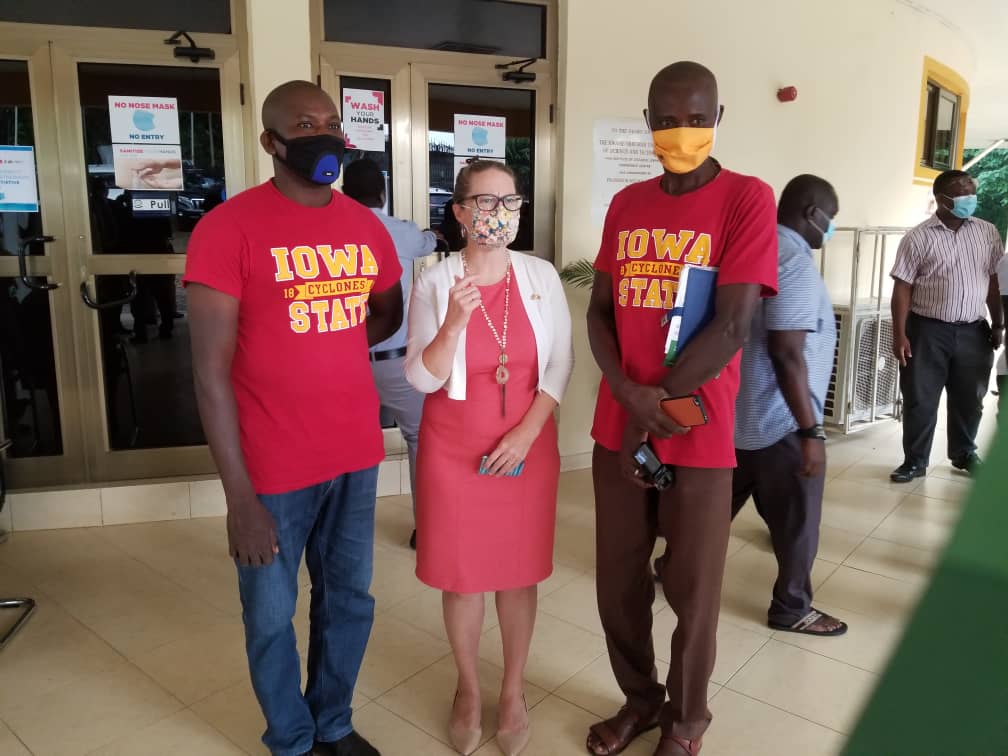 The U.S. Embassy in Ghana, the Kwame Nkrumah University of Science and Technology (KNUST) and Iowa State University recently launched the U.S. State Department Bureau of African Affairs' University Partnerships Initiative (UPI).
Iowa State is partnering with the KNUST College of Engineering to implement institutional capacity building through its student organizations Engineers Without Borders (EWB). Faculty and students from both universities will partner with the Ullo Traditional Area in the Upper West Region to collaborate on small-scale community development. These projects will promote research-driven practical solutions to address poverty, food security, nutrition and health, potable water security, sustainable agriculture, and improved economic opportunity. This 'learning by doing' approach will bolster the students' critical thinking skills, real-world problem-solving abilities and globalize the undergraduate engineering curricula at both universities. The two-year UPI grant award is for $230,000 and will cover project expenses.
The new partnership was announced at an October 14 in-person and virtual ceremony on the KNUST campus and was presided over by Professor Rita Akosua Dickson, vice chancellor of KNUST. Assistant Secretary of State for African Affairs, Ambassador Tibor Nagy, attended the event virtually from Washington, D.C. and delivered remarks. U.S. Embassy officials also attended the event at KNUST and virtually from Accra to support the partnership launch which seeks to strengthen existing ties and foster new collaboration between U.S. and African universities through faculty and student exchanges, joint research, administrative capacity-building and public-private partnerships.
"Our program will include student teams from ISU joining student teams from KNUST to work in the Ullo Traditional Area; the opportunity for ISU faculty and students to spend a semester at KNUST; and the ability for KNUST faculty and students to spend a semester at ISU," said Dirk Maier, Iowa State professor in agricultural and biosystems engineering and faculty co-advisor for the university's EWB student chapter. "We will also jointly teach a new course called Introduction to Global Engineering available for students at both universities during the 2021 spring semester.
"We are extremely excited about this partnership and it's launch", said Sarah Hansen, senior in mechanical engineering and president of the Iowa State EWB student chapter. "Being able to utilize the KNUST EWB members has been vital to the current progress of our projects during a time with many travel restrictions. The KNUST students bring a creative and new perspective to our group and we are very fortunate for this collaboration as we all work towards the common goal of helping the Ullo community."
Engineers without Borders is a national organization consisting of professional and student chapters who assist developing communities by designing and implementing sustainable engineering projects, empowering them to build a better community. The Iowa State student chapter consists of 80 students representing various majors across campus. The chapter has been active in the Ullo Traditional Area for the past six years most recently completing a major water distribution project serving over 1,000 students, staff and teachers at the Ullo Senior High Boarding School. The current focus is finalizing the design for building a new health clinic to serve the community.