Iowa State University Academic Advisor in Electrical in Computer Engineering (ECpE) Bob Thompson is announcing his retirement after working in the department for six years.
Thompson has previously worked with senior portfolio classes, where seniors compile work from throughout their college career, such as from their senior design courses. Thompson also wrote grants to help students go to conferences. He said he worked with the Iranian Student and Scholars Association for around three years as well.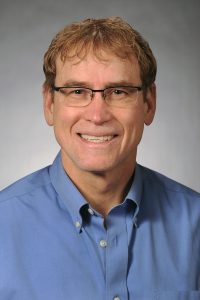 "My family has quite a history at Iowa State," Thompson said.
Thompson's grandfather attended Iowa State, along with his father, who got his graduate degree from Iowa State and also worked at ISU Extension and Outreach. Thompson also said that he and his wife were Cyclones as well, earning their undergraduate and graduate degrees in Ames. The tradition extended to Thompson's sons, who also attended Iowa State.
"I can remember coming here with my mom when I was just a kid, and we'd go visit my dad, and we'd have a picnic by the Campanile," Thompson said.
Thompson's education began when he started at a community college, later transferring to Iowa State, where he earned his first degree in fish and wildlife biology in 1983. After that, he entered the teacher education program and earned his certification to teach biology and general science.
When student-teaching, Thompson discovered that he had a passion for helping at-risk students. After his student-teaching experience, he returned to Iowa State once again, this time earning his master's of education in counseling. Later, Thompson got certified to be a principal, a position that he held for three years.
After being a principal, he then got a job at Buena Vista University, a private university in Storm Lake, Iowa. At the University he was the director of a satellite campus for about two and a half years. He then applied for the advisor position within ECpE at Iowa State.
"I get to do a lot of different things like counseling, life coaching, teaching, presentations and it's just a great job," Thompson said.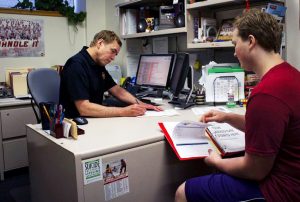 "We all have that one passion: to work hard for the students. And that's the glue that keeps us stuck together, and it's made us a good team and even good friends over the years," Thompson said when discussing his experience as being an Iowa State faculty member.
Each spring the Iowa State Engineering Student Council awards outstanding Cyclone Engineering faculty, students and staff  at the Student Council Awards. Thompson was named Outstanding Academic Advisor of the Year at this year's awards.
"At first it felt surreal. I got an email saying I won the award, and I just couldn't believe it, but getting this award has been very reassuring in a way," Thompson said.
Thompson will officially be retiring from his faculty position on July 6, 2020.
"While he will have more time to spend with his family and start another phase of his life, he will be dearly missed," said ECpE Professor and Palmer Department Chair Ashfaq Khokhar.
 "My wish for students is that while they are pursuing their career goals that they remember the importance of relationships.  Whether that's building positive relationships in their workplace and community or building and maintaining relationships with friends and family.  It's very important to be intentional about this," Thompson said.