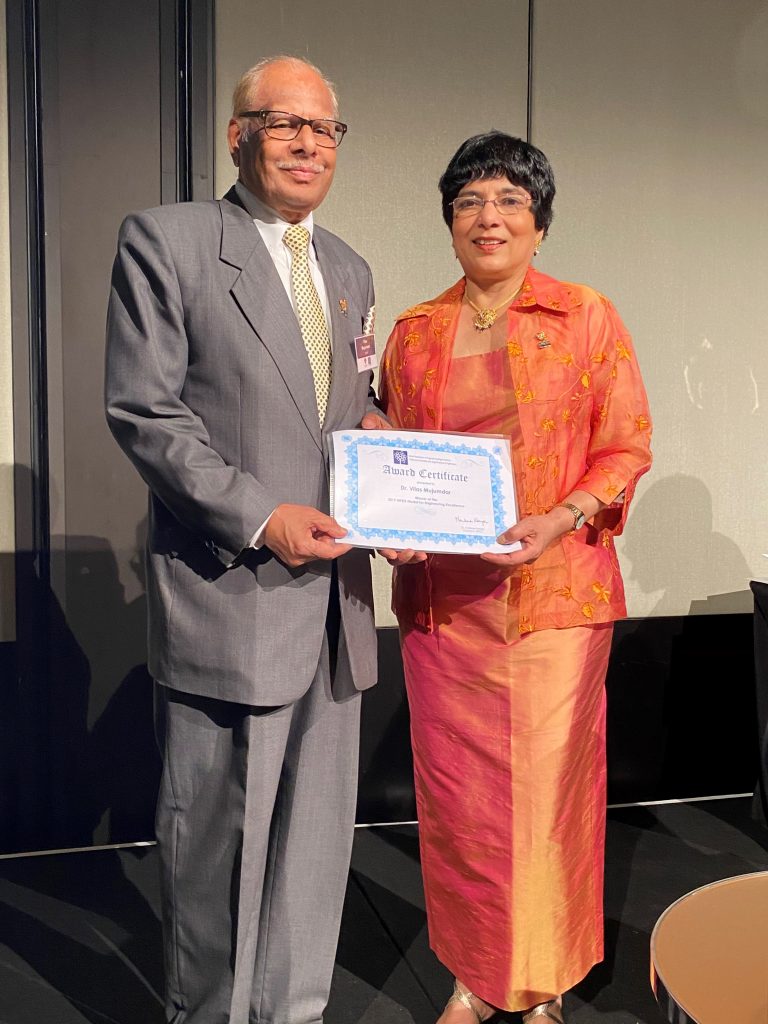 Vilas Mujumdar, a recognized engineering leader and a generous donor to the College of Engineering, was awarded the Medal of Engineering Excellence by the World Federation of Engineering Organizations (WFEO). 
The award is regarded as the highest award offered by WFEO, the internationally esteemed organization for engineers comprised of 30 million professionals from over 100 nations. 
Mujumdar has made considerable contributions that have advanced Iowa State engineering research and education. In November 2017, he donated start-up funds for the innovative Iowa State Hazard Mitigation and Community Resilience Program. The program provides support to faculty and staff working across many areas including risk assessment, hazard mitigation, community resilience and decision sciences. 
"My passion is to minimize the natural hazard risk by creating resilience in communities through combining engineering and socio-economic systems," Mujumdar said. "I am proud to be associated with Iowa State University which is undertaking this difficult goal of teaching future engineers in the broad system-level thinking."
Mujumdar has also lent his engineering expertise in the field with students and faculty in Iowa State's Department of Civil, Construction and Environmental Engineering. In 2014, Mujumdar delivered the T.A. Wilson Distinguished Lecture entitled, "A Total Complex Community System Approach to Developing Resilience in Infrastructure Systems to Natural Hazards." 
"Vilas has contributed immensely to the engineering profession within and outside of the U.S., and being recognized with the WFEO's highest honor is a very fitting acknowledgment of his contributions and services," said Sri Sritharan, Wilkinson Chair of Interdisciplinary Engineering.  
An author of two books, 85 papers, and keynote speaker for over 30 international conferences, Mujumdar's leadership experience in the field of engineering is immense. He holds his doctorate in public administration and public policy (seismic risk), a master's degree in structural engineering, and a bachelor's degree in civil engineering. Mujumdar also received a master of business administration in finance. 
Mujumdar serves as WFEO's representative of the United States. He is also an executive council member, vice-chair of the disaster risk management committee and Chair of the Governance Committee for the organization. Outside of his WFEO involvements, Mujumdar is licensed as a civil and a structural engineer in the state of California. 
Mujumdar was also inducted into the Pan American Academy of Engineers, is a Distinguished Member of American Society of Civil Engineers and a Fellow of the Institution of Civil Engineers (U.K.), Institution of Structural Engineers (U.K.), American Concrete Institute and many other organizations. A comprehensive list of Mujumdar's accomplishments and service to the field is available from the Global Engineering Dean's Council.