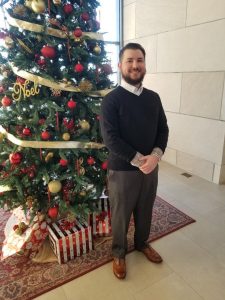 Joseph Filbert, graduate student in materials science and engineering, was awarded the prestigious Rickover Fellowship.
"I am incredibly grateful and excited to be selected for the Rickover Fellowship in Nuclear Engineering. Being selected for the fellowship means that I can continue my graduate studies and pursue a Ph.D., which enables me to explore my research interests in depth," said Filbert.
The Rickover Fellowship Program in Nuclear Engineering helps prepare students for future roles in naval nuclear propulsion and advances fission energy development through the research of the awarded fellows. Earning this award provides research funding and access to world-class Naval Research Laboratory research facilities.
"This opportunity sets me on the path of becoming a research scientist at the Naval Nuclear Laboratory, where I can make a positive contribution towards advancing fission energy," Filbert said.
Filbert's ultimate goal is to make a positive contribution in advancing fission energy. His specific project is still to be determined, but it will be catered to his research interests and goals of the Naval Nuclear Laboratory.
"I look forward to working with the Naval Nuclear Laboratory to develop a research project which advances the goals of the fellowship, while allowing me to explore the electronic properties of materials and how we can use them," Filbert said.
Filbert credits Nicola Bowler, materials science engineering major professor, for her assistance with the application process.
"I am very grateful for her help. Without her nudging, I may have never applied for this fellowship," Filbert said.
Filbert's previously was enlisted in the U.S. Navy, making receiving this competitive fellowship even more meaningful.
"I was enlisted in the U.S. Navy as a nuclear trained electronics technician, and so I have immense respect for Admiral Hyman G. Rickover, the namesake of the fellowship. Rickover is a hero of mine because of his engineering methodology and his championing the pursuit of excellence instead of the acceptance of mediocrity," Filbert said.
Filbert intends to pursue his Ph.D. at Iowa State in the fall.