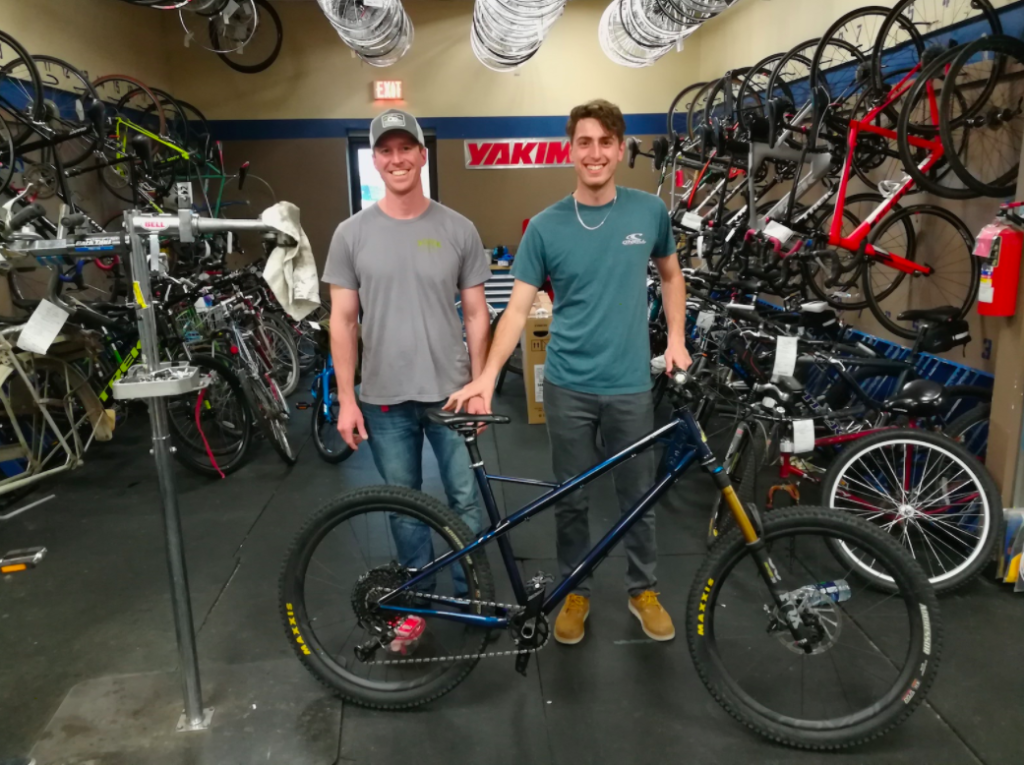 When Sebastien Mueller ('19 mech engr) was young, his dad told a story about his quest to "save the Dahu," a goat whose legs are shorter on one side than the other, making it so Dahus can only walk in circles around their mountain homes.
The story was the inspiration behind the name for the bicycle Mueller crafted in Boyd Lab. Mueller hopes that with his bicycle, riders will never want to leave the mountain and continue going in circles around it.
Dahus are fictional, but what are engineers if not makers of reality from what was once just imagined?
EDUCATION PLUS PASSION EQUALS BIKES
Growing up in Santa Cruz, California, Mueller was surrounded by bikes. He had worked at a bicycle shop in high school and envisioned a future with them. 
"Since I was in college and doing mechanical engineering, I wanted to try and kind of put it together, my education and something I enjoyed doing," Mueller said. 
After learning of the Boyd Lab and meeting with Craig Severson, supervisor of the lab, Mueller was itching to get started on a project. 
"We discussed it and we were both excited," Mueller said. "Overall it was just a way to kind of blend more things I'm passionate about and my education." 
BORN FROM BOYD
The Boyd Lab, located in Hoover Hall at Iowa State, provides students with the resources needed to complete hands-on engineering projects. Tools such as power tools, hand tools, woodworking equipment, milling and turning equipment, metal-working equipment, welders and a plasma cutter are all available for use. 
Never having used tools like this before, Mueller relied on help from Severson and Josh DeLarm, another lab supervisor, as well as problem-solving skills to craft the bicycle. 
"I went from never having done anything like this to designing and building all the fixtures and working with Craig to see what geometry would work the best," Mueller said. "It definitely wouldn't have happened without the resources Iowa State let us use."
Throughout the duration of this project, Mueller also learned about and got hands-on experience with the manufacturing process. 
SPECIALIZED SKILLS 
While on a road trip to Santa Cruz with his brother, Mueller got to visit Specialized, a bicycle manufacturing company known for creating the first production mountain bike. Specialized had also donated parts to help Mueller complete Dahu. 
Right now Mueller works in the auto industry but plans to work in engineering bicycles in the future. 
"I really used skills that I developed in my education and my mechanical engineering degree to be able to make this," Mueller said.