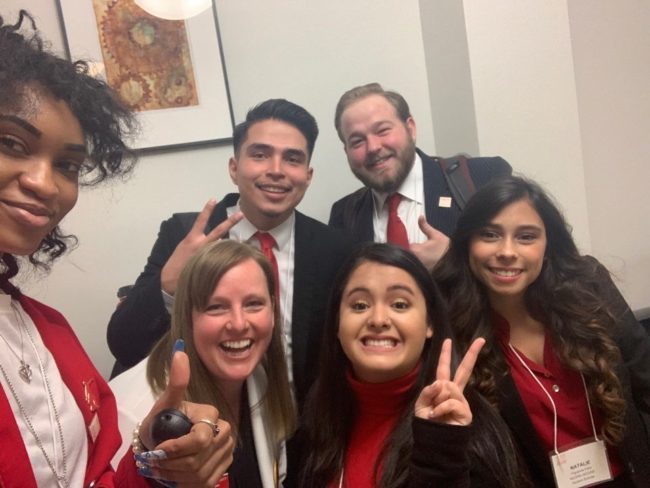 For Rene Chavez, a first generation, Latino Software Engineering (SE) student at Iowa State University (ISU), finding one's place at a primarily white institution like ISU has had its challenges. Even though he grew up in Des Moines, Iowa, he was largely surrounded by his own Latino community. "When I came to ISU to get my degree, my biggest challenge was to find groups I could identify with so I didn't feel so alone," shares Rene. At the time, he only knew his roommates and his sister (also a student at ISU). While these connections helped a little, he attributes getting involved in Lambda Theta Phi Latin Fraternity Inc. for helping him with the transition. Rene is now President of this fraternity, as well as serving on the Executive Board as Treasurer/VP of Finance of the Multicultural Greek Council (one of four Greek Life councils). For incoming Latino students, he also recommends participating in the LatinX Leadership Retreat hosted annually by LatinX Student Initiatives in the fall. "It helps because you get study tips and transition tools." Rene feels the retreat also provides an opportunity and helpful way to make connections with other Latino students to assist in creating the support group needed for a successful ISU experience.
Recently, Rene found himself involved in the 20th annual Thomas L. Hill Iowa State Conference on Race and Ethnicity (ISCORE) held on March 5-6, 2020 at ISU. ISCORE, a comprehensive forum on issues of race and ethnicity at Iowa State University and beyond, is designed to model the National Conference on Race and Ethnicity in Higher Education (NCORE). As a local initiative designed to provide an ongoing platform of sharing and applying new knowledge through presentations and workshops, ISCORE supports the university's mission to "create, share, and apply knowledge…and make Iowa and the world a better place." Groups of four or five students are formed and assigned to research a specific ethnicity and problem. Rene's group was assigned to learn about Native American mental health with relation to historical events and their effects through generations. Their group then presented on generational trauma with respect to Native Americans and their communities, and how first generation trauma was passed along through their culture via storytelling to their children. Rene says he appreciated the "opportunity" to learn how to relate to and exercise empathy for a culture outside of his own. "I've always been a big advocate of the Latino community, but this helped me educate myself on other cultures… it's helped me learn to be more supportive of other communities I don't identify with. I'm mainly from Iowa, but I was able to do research about this race and learn the other side of the story. Sometimes we can have a small lens, but learning about this ethnicity and an issue unique to them helped me."
How did Rene decide on his current Software Engineering major? He began his ISU adventure as an Open Option major before later changing to Computer Science. After taking some classes and talking with some friends, he became aware of the Software Engineering Program.  "I liked the option that I could take both Computer Science and Computer Engineering combined," says Rene, so he made the switch. This summer he plans to have his first internship with Athene Holding Ltd., a retirement services company, in West Des Moines, Iowa.  "I'll be an IT support person for both hardware and software," shares Rene. The internship start date has been pushed back one week due to the Covid-19 guidelines, but so far, plans for his internship are still moving forward.
When asked to share about someone who has had a big impact on his life, Rene was quick to name Dr. J. Eliseo De León. "He is the advisor for our fraternity," says Rene, "He's always been very supportive. There aren't a lot of men of color, in particular LatinX professionals, I can go to for support. He's a role model to me."  Currently Dr. De León is an Adjunct Assistant Professor in ISU's Department of Food Science and Human Nutrition. He is also Lazos Mentor for Hispanic/Latinx Affairs with the Office of the Vice President for Diversity and Inclusion at ISU. For Rene, Dr. De León is someone he can look to and identify with. As a first generation, Latino student, "It helps me think, like, maybe someday I can be where he is."
College life has taken on a different look for Rene since spring break. With classes going online due to Covid-19 guidelines, Rene has found himself in an apartment in Ames. For him, the new landscape has felt limiting. The hardest part, he admits, has been lack of motivation. One of the things he's missing the most is the "rush hour" part of campus when everyone walks around in between classes. "I'm the person that would be in Coover Hall for four or five hours straight. I definitely miss the social aspect of campus life." He looks forward to when things get back to a more normal pace and he can go bowling again with his friends at Perfect Games, something he was used to doing on a weekly basis. Another fun fact about Rene? "I'm a coffee fanatic. As in four to five cups a day."
When asked what his advice to incoming students would be, Rene is quick to recommend establishing a good support system.  "Surround yourself with a group of individuals to provide support. Anything. A fraternity or other people who can support you. And don't give up," says Rene.
Rene plans to graduate in Spring 2021.
Check out a recent guest blog post by Rene Chavez on the ISU Multicultural Student Affairs webpage.
Other related ISU Resources:
Student Service Support Program (SSSP)
Hispanic and Latino Affairs (includes LatinX Student Initiatives among other groups)