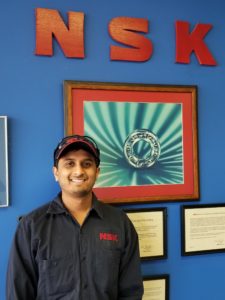 Though Iowa State's industrial engineering curriculum does not specifically cover pandemic situations, like the one the world is currently experiencing, one alum is using the skills and methods he developed at Iowa State to assist with efforts to combat COVID-19.
Shubham Khoje is a manufacturing engineer for the NSK Corporation facility in Clarinda, Iowa. The company was founded in Japan in 1916 and now has facilities all across the globe that manufacture ball bearings, which are used in everything from automobiles to wind turbines.
Khoje has had to adapt from his normal work routine as the company refocuses its efforts to produce components needed for equipment that will assist in the fight against COVID-19. NSK is currently manufacturing ball bearings which it will send to Ford and Puritan Bennett plants that are currently producing ventilators, a crucial piece of equipment to fight the COVID-19 pandemic. NSK is also working with Clorox to produce disinfectant sprayers, which will also be used to reduce the spread of the virus.
"For all these applications, there was an increase in demand for a few specific part numbers," Khoje said. "We had to make some manufacturing changes and increase our production for those part numbers and meet their increased demand with tight deadlines."
Khoje, who is originally from Pune, India, started working for the NSK in early 2018. He completed his M.S. in industrial engineering (IE) at Iowa State in fall of that year. His thesis advisor was Gül E. Kremer, professor and C.G. "Turk" & Joyce A. Therkildsen Department Chair of Industrial and Manufacturing Systems Engineering.
His work today mostly focuses on process improvement and the development of new products within the realm of medium-sized ball bearings. He uses things he learned the IE curriculum on a daily basis, including lean manufacturing and statistical analysis as well as software programs like SolidWorks and AutoCAD.
"My job primarily involves working on projects to improve the productivity and reduce costs and, ultimately, saving dollars for the company," he said.
Khoje isn't the only alumnus of Iowa State's College of Engineering working at NSK. Colin Sunderman, a 2018 graduate of electrical engineering, also works at NSK. Khoje remains grateful for the career training he received at Iowa State as well as for other resources the university offered. As an international student, Khoje said he was apprehensive about finding work in the United States after graduation, particularly in regard to visa sponsorship. However, by using the resources available to him, he was able to successfully navigate this process and end up where he is today.
"I am tremendously grateful for all of the opportunities that Iowa State University and the Department of Industrial and Manufacturing Systems Engineering offered to me," Khoje said. "I am proud to call myself a Cyclone Engineer and am also proud to use the skills Iowa State taught me to contribute to something bigger than myself or my company. In this case, that happens to be combating this deadly COVID-19 outbreak."