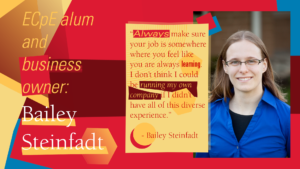 Entrepreneur, ECpE alum: Bailey Steinfadt succeeds at building her own brand
Running your own remote business can be hard, but Bailey Steinfadt, a 2010 graduate in computer engineering from the Department of Electrical and Computer Engineering (ECpE) at Iowa State University, is always up for a challenge. Driven and constantly learning through multiple facets, she is solely running her own company.
After graduating from Iowa State, Steinfadt immediately entered the engineering workforce, starting at Pioneer, an international seed development company. Throughout her time at Pioneer, she cycled through three different jobs, causing her to constantly be learning new things.
But after a while, Steinfadt found a drive for running her own business and having her own clients.
"I had been working at Pioneer for over eight years. While I was still working there, people were asking me about side gigs," Steinfadt said. "It was around a time where a lot of people were getting laid off, so I figured, if I already have clients, why not try this whole freelancing gig?"
Now, after that idea blossomed, Steinfadt has had several clients and built a brand behind her business. Her company, Stonepath Engineering, has been running successfully for over a year now.
In Steinfadt's company, she focuses on small embedded projects and project management.
"If someone needs help with a single project, I'll help with that," Steinfadt said. "The first company I worked for as a freelancer was a car wash company. They needed a little extra help building a demo, so I helped with that."
While Steinfadt owns, manages and runs her own company, she has another job, too, and is very involved in the Des Moines community.
"Right now I am working two jobs," Steinfadt said. "I have a position remotely at a company called Dojo Five in Minneapolis — they do bigger projects for custom firmware or custom hardware, and then I am also running my own company, doing small freelancing gigs."
Both of Steinfadt's jobs are remote, resulting in her becoming an expert in time management and working from home.
"Working for yourself, you have to set all of your own deadlines; and working from home, it's easy to slip into not keeping that separation from home and work," Steinfadt said.
But while working from home can be challenging, Steinfadt offers advice that has helped her tremendously.
"I think the most important thing about working remotely is making sure you have clear-cut deadlines and everyone has clear expectations," Steinfadt said. " And write everything down, or else you won't remember it."
An average day for Steinfadt, is, well, never average. Some days she is running from place to place working with clients, and other days she has the chance to work on all of the behind-the-scenes tasks.
"Now, I am lucky to have some time to catch up on things," Steinfadt said. "One of my clients is in Malaysia this week, so I have time to talk to my accountant, or work on my website, or my business cards."
Steinfadt is very busy working two jobs — one being her own business. Yet, she says she plans on continuing to run solo, because that way she can do everything and never stop learning.
"Having multiple gigs makes it really dynamic and interesting; you really learn a lot," Steinfadt said.
MakuSafe, a start-up company focusing on making the world safer through technology and data, is Steinfadt's most recent client. According to Steinfadt, this client alone is teaching her new paths and skills constantly. 
Steinfadt's passion for constantly learning new things to add to her knowledge base was supported and encouraged at Iowa State, she said.
"Iowa State gave me a wide range of skills and experiences. I recently listened to a podcast where someone was talking about her Harvard education, and complaining that they did not get practical skills and only learned theory. Thinking through that, I realized that here, at Iowa State, we learn a lot more than just theory," Steinfadt said. "At Iowa State, we got the education we needed to be successful and thrive in our careers and lives, not just theoretical, academic knowledge."
Now, Steinfadt uses her extensive knowledge about embedded systems and computer engineering to teach others, too. This June, she is speaking at an embedded technology conference in San Jose, California, about python development.
When giving advice to students coming up on graduation, Steinfadt stresses to never stop learning and always get involved. 
"Definitely get involved in your community," Steinfadt said. "I am involved a lot outside of my job and engineering. Go to industry events, join IEEE, join the community at large."
By getting involved in the community, no matter how big or small, one connection could lead you to another opportunity, she said. But regardless of what opportunity is taken or what career path is followed, Steinfadt recommends to never stop learning.
"Always make sure your job is somewhere where you feel like you are always learning," Steinfadt said. "Even if it's just one area, get a job where you can still keep learning. And when you can't, find a new one."
Without Steinfadt's constant influx of knowledge through never settling into one job, she says she would not be in the same place she is in today.
"I don't think I could be running my own company if I didn't have all of this diverse experience from Iowa State and my other three jobs," Steinfadt said.