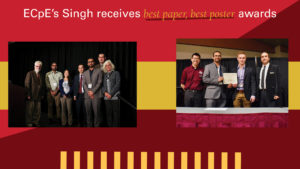 Vivek-Kumar Singh, a graduate student at Iowa State University's Department of Electrical and Computer Engineering, recently presented his research and has received a best paper and best poster award at two separate conferences since November 2019.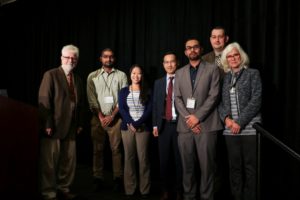 Singh received the best paper award at a conference known as Resilience Week, held in November.
Resilience Week has been held annually for over a decade, giving students the opportunity to present their own research and/or ideas covering methods to make grids resilient and for students to pitch ideas for their security-infrastructure research.
The research Singh presented was titled, "Networked Federation Testbed for Cyber-Physical Security in Smart Grid," focusing on federating geographically-dispersed smart grid testbeds to develop a realistic attack-defense platform for performing cyber security experimentation in a smart grid.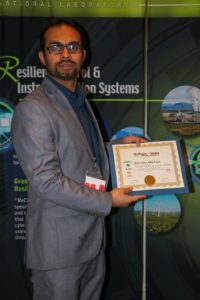 Singh's research can potentially help bridge the gap between academic research and industry practices, bringing together colleagues in the field.
"In this project, we are trying to explore how to interconnect the existing smart grid testbeds at different universities and national laboratories for sharing resources to develop a multifaceted testbed environment that can support cyber security research, development and demonstration in different domains of smart grid," Singh said.
For Singh, attending and presenting at this conference is a gateway into the field of cyber security. 
"I think [this conference] is helping me to get some recognition in this field, and of course, it will help me to get full-time job offers in national labs or industries as well as future collaboration with them," Singh said.
Not only did Singh speak at Resilience Week, but he also placed third at a separate event, where he received poster award — the 2020 IEEE Texas Power and Energy Conference (TPEC).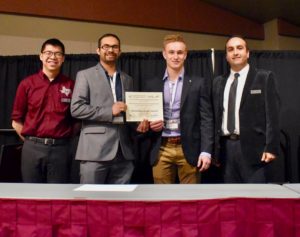 The TPEC 2020 was held Feb. 6-7, 2020, at Texas A&M University. Similar to Resilience Week, this conference is known to bring together participants from industry and academia to discuss and discover new technological developments and changes in the technological world. 
Singh placed third for the poster award at TPEC. Singh's poster was titled, "HIDES: Hybrid Intrusion Detector for Energy Systems."
"[HIDES] is based on the idea of merging different types of intrusion detectors to achieve a better performance in the context of smart grid cyber security," Singh said. "In smart grid cyber security, the conventional intrusion detector does not fit well. Therefore, developing a combination of different types of IDS, as a hybrid IDS, fits well in addressing cyber security challenges in smart grid."
Preparing for TPEC, Singh spent hours working on his poster. But during the conference, he made many valuable connections through networking.
"This conference is more focused towards the power system rather than cyber security," Singh said. "During the conference, I met university professors and graduate students who are doing similar kinds of work and had great discussions with them."
Singh says he looks forward to continuing to attend these types of conferences in the future and grow his reputation in the professional world.