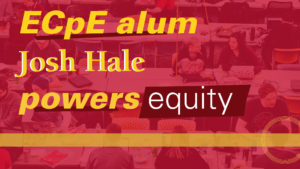 A problem solver with a passion for justice, Police Lieutenant and Systems Analyst Josh Hale has found the place where coding and technology blend with the law at the Iowa State University Police Department (ISUPD).
When first graduating from the Department of Electrical and Computer Engineering (ECpE) at Iowa State University with a degree in computer engineering in 2003, Hale was on the lookout for a job — and immediately found the perfect fit at ISUPD.
"I've always had a thing for law enforcement, so I applied here [at ISUPD], and I started as an officer, working my way up to sergeant and lieutenant," Hale said.
Now, Hale manages all of the IT projects around the police department like custom software, reports and installations. Hale later furthered their education and obtained a master's degree in information assurance and computer security from Iowa State, too.
Hale's skills with computers and problem solving work hand-in-hand with the law. 
"There is a lot of technology in law enforcement now," Hale said. "We have computers in all the cars, and we host our own servers to help manage connections that I administrate."
While Hale's position as System Analyst is mostly technical, their role as Police Lieutenant helps them gain interpersonal and communication skills.
"Law enforcement allows you to interact with a lot of different kinds of people, and it's a problem-solving job. Every call you go on, you're trying to solve a problem, learning self defense and communication," Hale said.
Hale, who came out as non-binary around 2012, is also a liason for Iowa State's LGBTQIA+ Success Center, speaking in classes around campus about their non-binary identity and educating students on gender identity. Hale enjoys telling their story to students, because Hale knows from first-hand experience that education is important. Hale couldn't quite pinpoint their own identity until being more educated themselves.
"Learning about all the different identities and what it means to be gender queer really helped me go, 'Oh yeah, that's pretty much me,'" Hale said.
When Hale came out while working at ISUPD, Hale said it was not a big deal at all. For the most part, the people around them were welcoming and inclusive, they said.
"Sometimes arrestees, and people that I interact with, don't really know how to take nicely painted nails, or stuff like that, so you get some interesting comments," Hale said. "But you know they are trying to exert dominance or control in a situation where they don't have any. People poke digs at the uniform, and when they see something that stands out, they see it as a potential weakness and they latch on to that — but it's pretty expected and doesn't really bug me."
Working with ISUPD, Hale says they are lucky to be in an inclusive environment with a no-discrimination policy.
"I'm pretty fortunate at the university to have some protections," Hale said. "I know that there are some other areas where it's more difficult to be yourself."
By coming out and identifying as non-binary, Hale is an inspiration and a safe place for students who may identify as LGBTQIA+.
"Sometimes people feel more comfortable talking to me than they do to others," Hale said. "We are pretty fortunate with the diversity in this department. We do everything we can to work with students."
Along with being a liason for the LGBTQIA+ Success Center, Hale spends their free time snowboarding and printing with 3D printers.
Representing his computer engineering alumni status, Hale has three 3D printers in their home and plans to eventually get a fourth. From intricate gifts to stuff around the house, Hale is often either creating a design to print or printing that design on one of their 3D printers.
As an ECpE alum, Hale also often attends the cyber defense competitions (CDC) hosted by the department. A few competitions ago, Hale was instrumental in encouraging a law-enforcement-themed CDC where ISUPD worked with the hackers — connecting Hale's past with ECpE to their current relationship with law enforcement.
"Law enforcement is fun," Hale says. "It's challenging, but it's fun. And getting to work with computer stuff and using the IT world is nice, too."
Hale encourages students and any others to reach out if they ever need support, help or advice. You can contact ISUPD at 515-294-4428.