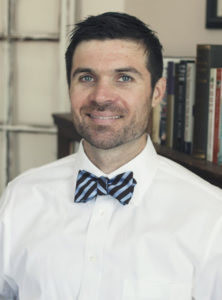 Some kids grow up wanting to be an astronaut or a doctor or any other number of careers. This wasn't the case for Cody H. Fleming. He admits that growing up he was more interested in sports than his schoolwork. However, because of the persistence and encouragement from some of his teachers and mentors, he developed an interest in engineering that eventually led him to the career path he is on now.
"I was encouraged to develop the aptitude I had for math and science classes and ended up doing a job shadow in high school with a local engineering firm," said Fleming. "STEM topics were something I fell in love with more as I learned more, and I am indebted to many amazing teachers and mentors along the way who nurtured and pushed me."
Fleming grew up in Humboldt, Iowa, and his family eventually moved to the Ames area. He graduated from Gilbert High School and remembers playing basketball in Beyer Hall on the Iowa State University campus as a teenager. His skills on the hardwood afforded him the opportunity to play forward for the varsity basketball team at Hope College, an NCAA Division III liberal arts college in Holland, Michigan, where he also earned his B.S. in engineering.
A series of knee surgeries prevented Fleming from pursuing basketball outside of the DIII ranks, so he decided to instead hone his career in the STEM field. He went on to a complete his M.Eng. in civil and environmental engineering and Ph.D. in aeronautics and astronautics, both from the Massachusetts Institute of Technology (MIT). Between receiving his master's degree and going back for his Ph.D., he spent six years as an engineer for Northrop Grumman Space Technology in Redondo Beach, California.
Fleming, who has served on the engineering faculty at the University of Virginia since 2015, will now return home to Iowa as he joins the mechanical engineering faculty at Iowa State beginning fall 2020. He said that he was attracted to the position at Iowa State for a couple of reasons.
"First, the mechanical engineering department at Iowa State is doing a fantastic job of fulfilling the traditional mission of that intellectual field of study while also pushing in new directions," said Fleming. "Second, the university is invested in their mission to serve the state, the nation and the world. This is not just 'lip service' as the engineering corridor looks dramatically different than when I grew up here. The level of investment in infrastructure is both a concrete, in some cases, literally concrete, contributor to success and also a symbol of ISU's strategic investment in STEM."
At Iowa State, Fleming will teach courses on dynamics, design and controls. His research focuses on autonomy (driverless cars, or the automated flight management systems on aircraft, etc.), systems integration (how do the various components within a system interact with each other in a highly functional way; how do multiple systems, like driverless cars or pilotless aircraft, interact with each other?) and safety (how do we think about all the things that can go wrong and then assure that the system can handle these? Or does not cause any hazards?).
"There are many interesting questions at the convergence of these areas, including how to fuse physics-based models with the emerging use of so-called AI, or artificial intelligence, and machine learning in autonomous systems. How can we take some of these ideas and apply them to new domains, with new collaborators?" Fleming said, adding that he is eager to work with his ME colleagues at Iowa State, who have similar research foci.
In his free time, Fleming enjoys watching basketball (both NBA and college). He has been a lifelong Cyclones fan and has adopted the Virginia Cavaliers as his second team (don't worry, he was cheering for the Clones in 2016!). He also enjoys cycling (a bit easier on the knees than basketball) and looks forward to participating in RAGBRAI when he gets back to Iowa. Fleming and his wife Sarah also stay busy raising their 4-year-old son Grey and month-old daughter Frankie.
As a veteran engineer, Fleming has advice for his students, particularly graduate students he recruits to his lab.
"Success in the face of all the uncertainty that researchers encounter is so much a function of grit. This is the first quality I am looking for. If you have grit and determination, and then a background or interest in math, analytical tools, and mechanical systems, then come see me."