"Learning communities are a great way to make a large university like Iowa State feel smaller and friendlier," said Clayton Johnson, coordinator for Engineering Exploration Learning Community.
The Engineering Exploration Learning Community is open to first-year undeclared engineering students. This learning community aims to provide support for more than 300 first-year students each semester as they discover their engineering interests.
Every week, small sections of about 10–20 Engineering Exploration students meet in a seminar class (ENGR 131) taught by their peer mentors, like Dominique Serrano, a junior in mechanical engineering.
Peer mentors are students qualified to lead the learning communities by facilitating events, teaching classes and seminars and assisting with academic questions, among a variety of other duties and services they provide to their mentees.
"Because I was an undecided engineering major like my students are now," said Serrano, "I felt that since I went through the same classes and experiences, I could help others get through the ups and downs of being a first-year engineering student."
In these weekly seminars, students learn team building skills through hands-on, collaborative design experiences. In one seminar, students worked in teams to create a chair from balloons and masking tape that would be able to support the weight of a student for a minimum of five minutes.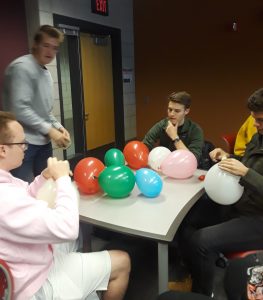 Activities such as this teach students to be creative when working with less than ideal materials, to involve each team member's ideas and contributions and to build connections between members.
Casey Downing, a freshman engineering student, recommends joining a learning community to other students to make the transition to Iowa State smoother. He says it creates small groups that support each other in and out of class.
"It [the learning community] has given a group of people I see in 90 percent of my classes I can talk to and get familiar with," said Downing.
Iowa State University offers over 90 learning communities across campus, and over 86% of first-year students participate. Since 1995, Iowa State has served over 80,000 students in learning communities.
The College of Engineering offers nearly 20 different learning communities to meet the individual needs of incoming, transfer and current engineering students in all majors.