Incoming mechanical engineering faculty member looks to establish a research niche combining fluids and energy at Iowa State University
Returning to Ames and conducting research at Iowa State University will be something of a homecoming for incoming mechanical engineering faculty member.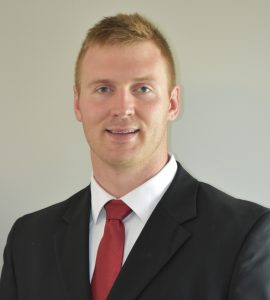 Todd Kingston grew up in North Bend, Nebraska, about three hours west of Ames. As a child, he said he always had "an innate curiosity for how things worked," which attracted him to STEM classes in school.
"I also worked in a local automotive mechanics shop during high school, and this experience fueled my passion for engineering by providing me with exposure to complex mechanical systems," he said.
This interest in mechanical systems influenced his decision to study mechanical engineering (ME) as an undergraduate at Iowa State. Through his coursework, he developed an interest in thermal sciences: thermodynamics, fluid mechanics and heat transfer. He conducted research with Scott Schlorholtz in the Materials Analysis Research Laboratory, through which he developed an interest in experimental research. After completing his undergraduate studies, Kingston continued as a master's student at Iowa State and studied with ME university professor Ted Heindel, allowing Kingston to combine his interests in thermal science and experimental research. He said this work opened his eyes to the possibility of a career in academia.
"I was drawn to the unique opportunity to address today's societal challenges through cutting-edge research and hopefully help influence the societal challenges of tomorrow by educating the next generation of engineers and scientists," Kingston said. "I made it my goal to become a faculty member at a research university, hoping someday I might even work for the mechanical engineering department at Iowa State."
After completing his master's degree, Kingston attended Purdue University to pursue his Ph.D. There he worked under the guidance of Suresh Garimella and Justin Weibel. He worked in Purdue's Cooling Technologies Research Center and had the opportunity to collaborate with individuals from the Naval Surface Warfare Center Crane Division in Crane, Indiana.
While still a Ph.D. student at Purdue, Kingston interviewed for and was offered a faculty position at Iowa State. He deferred his appointment for one year (meaning he'll arrive on campus in fall 2020), to complete a postdoctoral fellowship at the United States Naval Research Laboratory (NRL) in Washington D.C. There he is working with materials research engineer Corey Love and his research group to study the implications of thermo-electrochemical coupling phenomena on the performance and safety of lithium-ion batteries.
When he arrives in Ames, he will look to establish a research niche focused on multiphase thermal-fluid transport for energy transfer and conversion. Through this research, he seeks to advance the fundamental understanding of thermal-fluid transport and provide state-of-the-art solutions to some of the grand challenges in the energy sector.
"One research thrust in my portfolio is focused on next-generation thermal management of high-heat-flux devices, such as power electronics or directed energy systems, using two-phase cooling strategies like flow boiling in microchannels," said Kingston. "Another is the proliferation of renewable energy technologies through thermal-fluid advancements; my current research at NRL fits within this thrust."
At Iowa State he plans to become a member of the Center for Multiphase Flow Research and Education where he can collaborate with other ME researchers who have a similar focus, including Heindel, Baskar Ganapathysubramanian, James Michael, Alberto Passalacqua, Travis Sippel and Shankar Subramaniam.
"There is also a plethora of faculty and staff across the college that are affiliated with the Bioeconomy Institute that I will seek collaborations with," he said.
When recruiting graduate students to his lab, he said he seeks those who have scientific curiosity.
"It is the continual desire to learn, understand and apply acquired knowledge that I think drives some students to make significant scientific breakthroughs. Two additional qualities that are invaluable to success are self-motivation and determination," he said, adding that strong technical communications skills are also desirable.
Outside of his academic responsibilities, Kingston keeps busy with his family. His wife, Jessica, is also an Iowa State alum (B.S. in child, adult and family services), and together they have a one-year old daughter, Landrie. They also have a Doberman Pinscher named Mia.
"We enjoy spending time outdoors, with friends and family, and traveling," said Kingston. "I personally enjoy barbequing and attending sporting events so I am excited to get back to Jack Trice Stadium and Hilton Coliseum when I return to Ames."