Armed with a fresh bachelor of science in mechanical engineering, Cynthia Lord headed east, joining Consolidated Edison of New York as a rotational engineer, where she worked with aspects of engineering and operations as well as marketing and finance. An early internship with Iowa Power and Light piqued her interest in the electric generation industry, and she's remained in the field her entire professional career.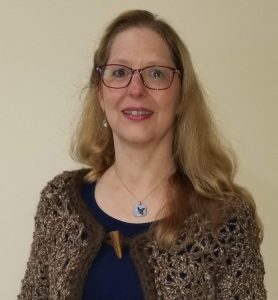 While in New York, she completed an MBA from Baruch College and received her Professional Engineer (PE) license. In 1999 she returned to Iowa, taking a job as plant manager for Alliant Energy's Ottumwa Generating Station. She then served as manager of fuel procurement before taking her current position as manager of a generation engineering group.
Lord attributes much of her success to the skills and knowledge developed in Iowa State's ME curriculum.
"The foundational knowledge has been very important for my career in the power generation business. Nowadays, I don't do much actual engineering but knowing the concepts and vocabulary allows me to lead a very talented group of technical engineers," she said.
It took leaving Ames for Cynthia Lord to realize just how much she loves her hometown – and its university.
Lord grew up in Ames near the present location of Jack Trice Stadium and remembers sledding on the hill where the stadium now stands. Both of her parents graduated from Iowa State, with her mother Jean (Loving) Stout studying home economics education, while her father Ed Stout majored in agricultural engineering. Her father, who worked for Sundstrand (now Danfoss) in Ames, was a significant influence on her when it came time to select a major.
"He was 110 percent engineer, always analyzing things, and that rubbed off onto his two daughters as we both graduated from Iowa State with degrees in mechanical engineering," Lord said.
However, Lord actually attended the University of Iowa her freshman year, with the intention of studying biomedical engineering as a pre-med major. Finding bio-med too specialized after her first year, Lord left those constraints behind and transferred to Iowa State. As a Cyclone Engineer, she discovered mechanical engineering, which she felt provided a level of career versatility that biomedical engineering did not.
As a student, Lord was active with the Society of Women Engineers (SWE) which she saw as "a great place to meet other women engineers, at a time when there weren't very many of us." She was also involved with Iowa State's student chapter of the American Society of Mechanical Engineers (ASME) and served on the engineering council.
"Being involved in those groups broadened my understanding of engineering as a career and showed me that I had interest and ability to be a leader," she said.
Lord felt supported, often times even challenged, by all the ME faculty, but developed particularly close ties with Ted Okiishi and Gale Scandrett, who was also a family friend. She also remembers Bill Bathie and Alex Henkin, who are both still around Ames today. She completed summer internships with John Deere and the aforementioned Iowa Power and Light.
She cites the now-defunct VEISHEA celebration as one of her fondest memories from her time in Ames.
"I enjoyed VEISHEA as a teenager and as a college student," said Lord. "I recall winning the engineering egg drop contest with a very simple design that surprised many."
Outside of work, she trains and competes with her Cardigan Welsh Corgi dogs, Beeper and Neo, in the sport of agility. She also enjoys keeping up with Cyclone athletics, admitting that she follows the team more closely now than she did as a student.
"When I lived in New York City, I had to explain who the Cyclones were," said Lord. "Now, it is fun to have colleagues who are ISU alums and to engage in some friendly banter with colleagues from rival schools."
When reflecting on her time at Iowa State, Lord finds it interesting to think that she was often one of the only female students in a class or on a project team. She said she is encouraged that, in recent years, she's seen many more talented females entering the field.
"Finally, after more than 35 years in the business, I am delighted to see more women engineers in the business, and particularly in my company. I'm honored that I was able to hire many of them and watch them as they excel in their careers. Engineering is a great field for women to apply their talents and make a difference in the world."