A 1999 article in Visions magazine, produced by the Iowa State University Alumni Association,
informed many aspects of the reporting in this four-part series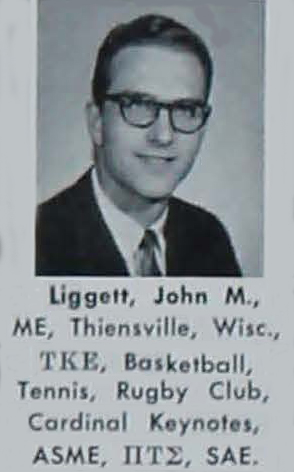 Though his father and grandfather's interest in mechanical engineering may have played some role in his decision to attend Iowa State, John M. Liggett admits he was attracted to the school because of their at-the-time weak football program, which he thought meant he might have a chance to play.
The sixties was a rough era for Cyclone football, with the team never finishing better than middle of the pack in the Big Eight conference. John M. Liggett arrived on campus in 1964, but at 6-foot, 6-inches and 190 pounds, he realized that he was underweight for the gridiron so he took his athletic skills to the court, trying out for and landing spots on both Iowa State's basketball and tennis teams.
"I was a bench warmer on the basketball team behind Don Smith," he said with a laugh. Smith, who changed his name to Zaid Abdul-Aziz in 1976, played for the Cyclones from 1965 to 1968 and was twice named All-American. He went on to be the fifth overall pick in the 1968 National Basketball Association (NBA) draft and had a decade long professional career.
John M. Liggett's tall frame also benfited him off the court. He started playing the string bass in junior high school and as a collegian played bass for the Iowa State University Cardinal Keynotes. The ensemble consisted of about 20 vocalists and a rhythm section (piano, bass and drums). They performed in Chicago and other places around the Midwest. He also played in an 11-piece dance band called The Continentals. Liggett was attracted to big band jazz music, and felt it was a fun way to make some money on the side.
"We'd play rotary club functions, high school proms, and pretty much any other gigs we could get," he said, adding he served as the group's director beginning his sophomore year, which meant he was responsible for scheduling rehearsals and lining up gigs. "We would charge $250 each performance, which was $20 for each performer plus an extra $20 for me as the director."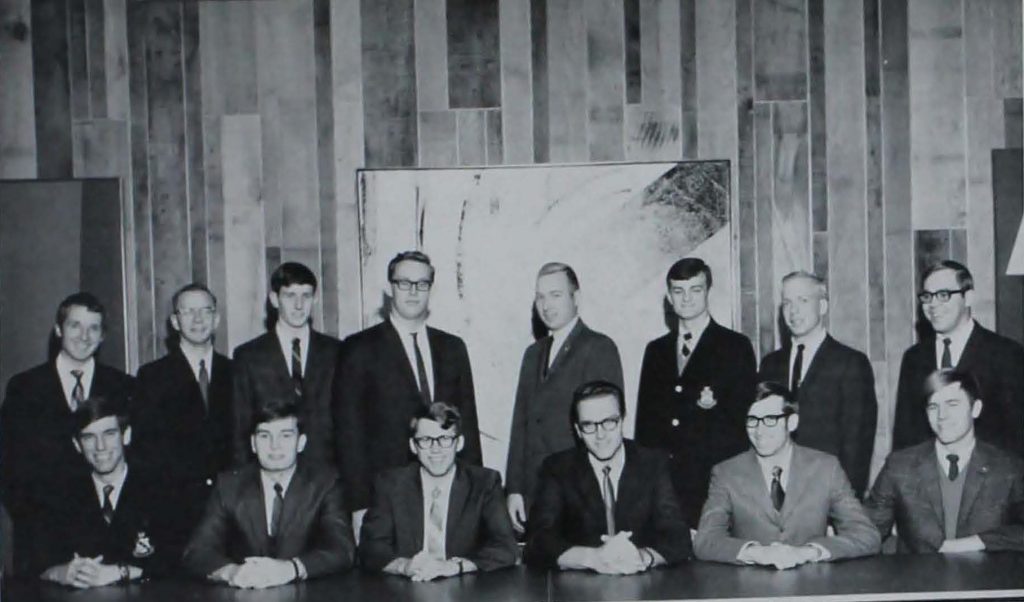 As a student, John M. Liggett continued the legacy his father started by pledging to Tau Kappa Epsilon (TKE) fraternity and was also a member of the Pi Tau Sigma mechanical engineering honor society. He also stayed busy with his coursework and said that ME professor Charles Mischke had perhaps the greatest impact on him out of any of his instructors.
"He was creative and thought outside of the box, which I really came to appreciate after college when I became a design engineer," he said. "Looking back on my education, while I learned a lot of technical stuff, it was the creative side and the practical knowledge that had the greatest impact on my professional development."
John M. Liggett was married in 1967 and lived his last two years at ISU in Pammel Court. He graduated with his B.S. in ME in spring 1969, just weeks before the groundbreaking Apollo 11 moon landing. Though he was drafted and had planned to serve in the military just like this father and grandfather, a failed physical earned him a deferment from service.
Even after graduation, he refused to let go of his dream to play football. Having bulked up to 210 pounds by the time he left Ames, in part because of his love for Oreo cookies, he decided to contact a nearby professional football team to ask about trying out for a spot on the roster. They arranged for a trial spot on a local semi-pro team, but during his first game he suffered a torn ACL, permanently sidelining his football career.
"It ended before it even started," John M. Liggett said with a laugh. "But maybe it was good I never played."
However, that competitive spirit never left him and he began racing sailboats when he lived in Houston, Texas and even competed in the Lido 14 national championships with his wife in Washington state. That experience led them to buy a bigger sailboat and live on it for five years in New York City since it was less expensive than buying a house, according to Liggett. His son Ian was born in 1980, ending their life on the sailboat.
John M. Liggett also had a successful engineering career which included working as a design engineer of glass manufacturing machines in Lancaster, Ohio. However, he soon realized he needed more practical experience, so he transferred to a plant engineer job at a glass plant in a Salem, New Jersey. Then he became head of engineering and maintenance at a glass plant in Houston, Texas. He finally had enough experience to get his Professional Engineer's license, "largely thanks to passing the EIT test at ISU," he said.
In the 1970's, John M. Liggett moved to the east and started a business of the selling and manufacturing of engineered components for machinery with his father. That added technical sales to his career. His education and experience were great assets when talking to potential customer engineers. That business now includes value added technical product distribution and continues successfully to this day.
Despite the success he has had, John M. Liggett emphasized the importance of enjoying what you do. "It's not how much money you make, it's how much fun you have that counts," he said.
READ: Part I John T. Liggett
READ: Part II John R. (Jack) Liggett
READ: Part IV Ian Liggett