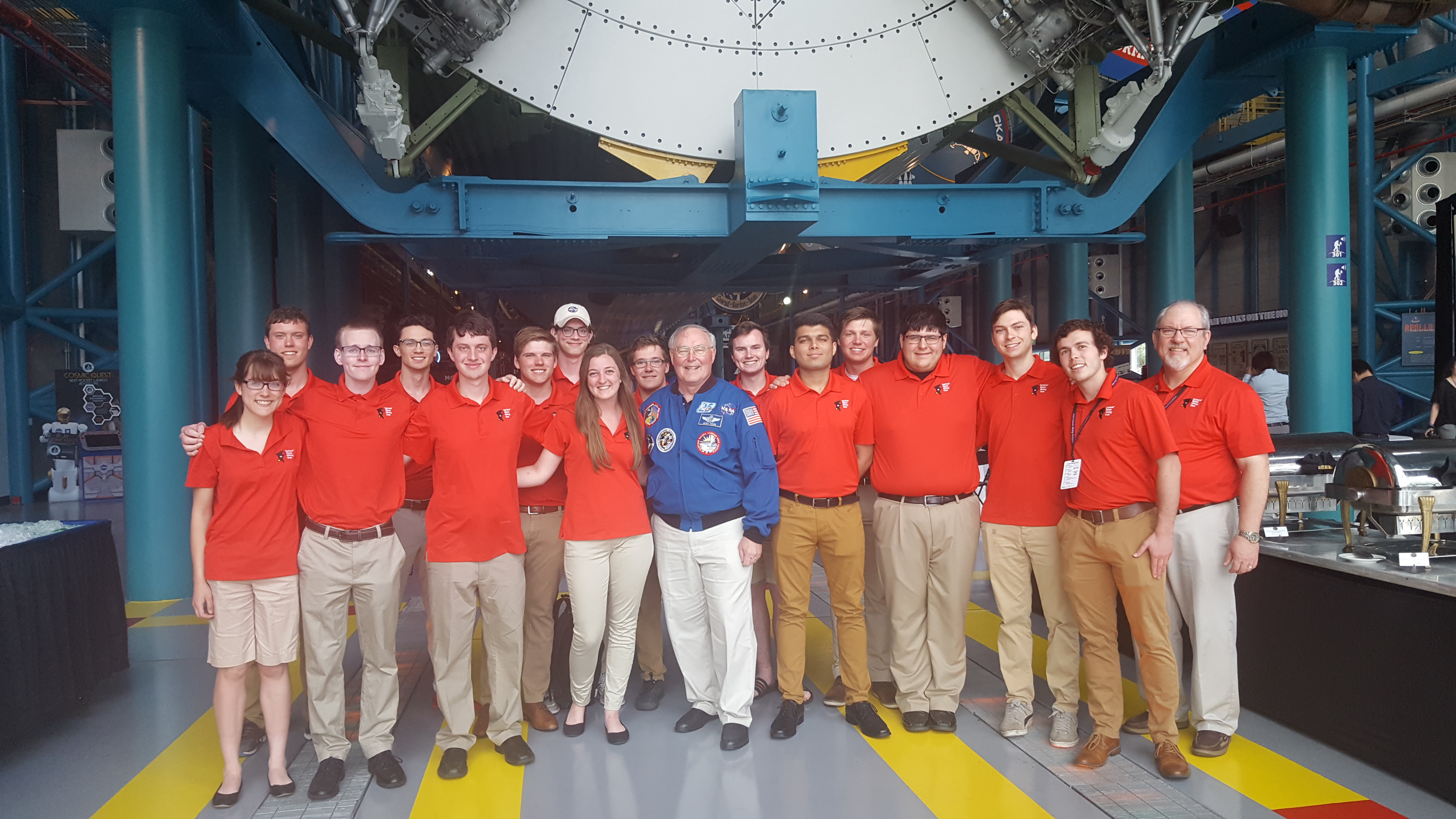 Iowa State University's Cardinal Space Mining Club is digging deep and exciting people with innovation through community engagement. With its advent traced back to an Iowa State University capstone project, the club has experienced tremendous growth and has made a strong presence in the national competition.   
NASA aims to land the first woman and next man on the moon by 2024. The agency's Robotic Mining Competition is designed to support the future success of NASA and the aerospace workforce. Founded in 2010, the objective of the program is to mine minerals on the Moon and Mars and increase the optimization of mining.  
Jim Heise, club advisor and associate teaching professor with the Department of Mechanical Engineering, says the central challenge space mining teams work to solve is keeping robots underweight while still having enough power.  
While mining performance and systems engineering comprise 75 percent of the competition score, 20 percent is attributed to each team's involvement in community outreach.  
Connecting community with innovation 
Taylor Meyer, senior in mechanical engineering, serves as the current president of Cardinal Space Mining. She began working with the club during her freshman year by assisting with outreach efforts. In high school, Meyer was actively involved in FIRST Robotics and has continued to exercise her passion for engaging youth in STEM.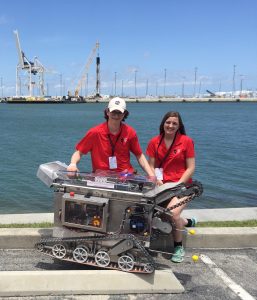 As a sophomore, Meyer went on to serve as the outreach coordinator where she oversaw the completion of 279 hours of work to engage campus and the community in space mining. Following her outreach position, Meyer was elected as mechanical project co-director, vice president, and president in the following years.  
Meyer has witnessed tremendous growth of the club over the course of her years at Iowa State. In her first year, she recalls the size of the club barely exceeded ten members who were heavily involved. Overtime, the club has introduced a mentorship program, and Meyer says the resulting strong relationships have maintained interest in the club.  
Today, 64 dues-paying members are involved in Cardinal Space Mining. What's more, Meyer says female membership has grown dramatically since her start with the club. While Cardinal Space Mining has excelled in engaging with the community, she also credits outreach efforts with growing the club's member base.  
Transferring skills from competition to career 
Phillip Molnar ('16 mech eng) was involved in Cardinal Space Mining over the course of his four-year journey as a Cyclone Engineering student. Molnar served in leadership positions through the roles of treasurer, project director and president. Today, he works as a senior mechanical design engineer at AIM Aerospace and credits Cardinal Space Mining with supporting him in his line of work.  
"As much as I learned in class, I use what I learned in Cardinal Space Mining at least twice as much," Molnar said. "A big part of CSM was building confidence in doing new things. I'm working with aluminum and composites every day, and that all started on the team." 
Jakob Hartl ('17 aero eng) says Cardinal Space Mining has equipped him well for working in the aerospace field. Hartl served as vice president and president of Cardinal Space Mining as an undergraduate. Today, he is a Ph.D. student studying aerospace systems engineering at Purdue University and is conducting research through a Rolls-Royce fellowship.  
"CSM definitely helped me get into this profession because of the emphasis that NASA puts on systems engineering for the competition," Hartl said. "This is a field of engineering knowledge that is not fully captured at the undergraduate level, but is desired by many employers and is growing in popularity."  
Former Cardinal Space Mining vice president Lydia Barrett ('17 mech eng) says the club prepared her for working on large–scale projects where many moving parts have to be brought together. Barrett now works for 3M as an acoustical engineer where she makes and tests hearing protection and communication systems. 
"Even if you aren't going to build robots for NASA you can still fully utilize the skills and experience you gain in CSM by working on a large project with a large team," Barrett said.  
Today, the legacy and influence of Cardinal Space Mining for club alumni lives on.  
"The team has heart. They're what I consider to be the best of Cyclone Nation. They're resilient, they're intelligent, they're problem solvers. They're family," Molnar said. "You want to root for them every year."