This is one in a series of stories related to the 150th anniversary of civil engineering at Iowa State University.
From the small town of Manning, Iowa, Henry J. Brunnier went on to accomplish big things in structural engineering. In 1900, Brunnier became the first person in his town to attend Iowa State College (now Iowa State University). He chose to study civil engineering. While at Iowa State, he attended a lecture on water tower design taught by then-Professor Anson Marston. Brunnier then insisted that Marston design the new water tower for his hometown. Brunnier assisted Marston by working part-time designing and drawing details. As the years continued, the two became close friends. Years later, when the Anson Marston Medal came into its existence at Iowa State in 1941,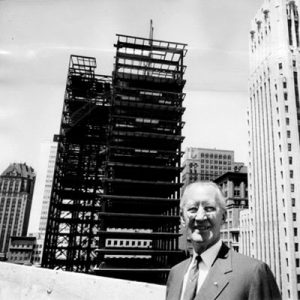 Brunnier was its first recipient.
After graduating in 1904, Brunnier was lured to Pittsburgh, Pennsylvania … not for his first engineering job, but for baseball. Pitching on weekends, he was offered a contract with the Pittsburgh Pirates but rejected the offer to pursue a career in engineering. After one year with the American Bridge Company and New York Edison, Brunnier was sent off to San Francisco, California, to help with reconstruction following the 1906 San Francisco earthquake.
In San Francisco, Brunnier opened his first structural engineering office in 1908 (H.J. Brunnier Associates). The firm designed numerous structures in the Bay Area. It only made sense that one of the firm's projects included the design of the Seals Stadium, home of the San Francisco Seals, a minor league baseball team. At the time, it was said to be the finest minor league facility in the United States.
Fast forward, and the firm is still standing strong to this day.  Mike Davies, principal of H. J. Brunnier Associates, was recently on Iowa State University's campus to celebrate the reopening of the Brunnier Art Museum after a round of renovations. Davies is an avid historian when it comes to sharing Brunnier's lasting legacy. In addition to his guest lecture for University Museums, he spoke to a group of structural engineering students in Iowa State University's Department of Civil, Construction and Environmental Engineering.
"Brunnier's broad range of major structures, particularly high-rises, are still in use today," Davies said. "The downtown San Francisco skyline is populated with many significant buildings designed by the firm."
Brunnier passed away on Dec. 10, 1971, after decades of changing the way engineers design for structural integrity in earthquake zones.
The Bank of America World Headquarters, the Crown Zellerbach Building, the PG&E Headquarters, the Chevron Office Towers, the Golden Gateway Center, the Fairmont Hotel Tower and the California State Automobile Association Headquarters are just some of the projects in which Brunnier's firm has had a part.
"He must have had incredible energy to be involved in so many professional and service organizations," Davies said of Brunnier. "He was the foremost early leader, organizer and spokesman for the structural engineering profession on the West Coast."
If you are interested in reading more about the life and times of Henry Brunnier, explore the following sources:
History of H. J. Brunnier Associates by H.J. Brunnier Associates
Engineers / Henry J. Brunnier by the Structural Engineers Association of Northern California
History of the Brunnier Art Museum by University Museums of Iowa State University
Connections: The Earthquake Engineering Research Institute Oral History Series featuring a conversation with Henry J. Brunnier