Ten undergraduate students from around the nation spent their summer in the Iowa State Department of Aerospace Engineering with the LAUNCH-UAS Research Experience for Undergraduates (REU) program.  LAUNCH-UAS is designed to provide research opportunities for underrepresented minority students and this marks the first year it has been offered.
The program is coordinated by Benjamin Ahn, assistant professor of aerospace engineering, and Thomas Ward, an associate professor of aerospace engineering.
"The goal of the program is to encourage underrepresented students to participate and be involved in research with aerospace engineering," Ahn said.
The National Science Foundation-sponsored program brings in ten underrepresented undergraduate students from non-ISU colleges or universities, and pairs them with Iowa State faculty to conduct research in the area of unmanned aerial systems. For many of these students, this is their first research experience.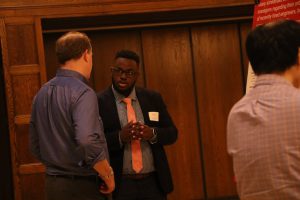 LAUNCH-UAS aims to teach students a comprehensive research experience. Students not only learn about the research process, but how they can improve as researchers.
"Going through that entire research process and helping them understand what that is, is one goal. The second goal is to develop student's professional skills," Ahn said.
In weekly seminars, participants of the program also learned communication, leadership and professional skills. They also had the chance to meet and have lunch with other members of aerospace engineering faculty, like former NASA flight director and current senior lecturer in aerospace engineering Tomas Gonzalez-Torres.
Four aerospace engineering faculty members (A Ram [Bella] Kim, Dae Young Lee, Kristin Rozier and Peng Wei), along with co-directors Ahn and Ward worked with students on research projects related to UAS.
Projects students worked on included topics varying from "autonomous collision avoidance and aircraft guidance for urban air mobility" to "safe robot human interaction."
In addition to working on research with Iowa State faculty, students took part in workshops on topics aimed at developing their skills as researchers, as well as preparing them for graduate school applications. The ten students were also able to take part in field trips to nearby sites, like the Tornado Simulator, the Virtual Reality Application Center, and the headquarters of Collins Aerospace in Cedar Rapids.
Ahn says he is thankful for the faculty members that take time out of their day to work with, and mentor, the LAUNCH-UAS participants. He also recognizes the help of graduate assistant aerospace engineering Sara Santos.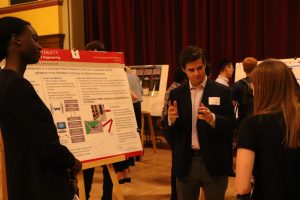 Santos was working as a graduate student with Ward when he suggested she get involved in the program. For her, working with LAUNCH-UAS students seemed right up her alley.
"It's a really interesting project, to get minorities involved. Being a minority myself, being a female, it's really important that we encourage other minorities to pursue graduate degrees or get involved in research. That's why I was interested," Santos said.
Participants in the program presented their research posters at the ISU Summer Symposium Aug 1. Ahn is also encouraging students to publish the results of their research to either a professional conference or journal.
Students taking part in the LAUNCH-UAS program are:
Ravonte Campbell, an aerospace engineering major from Virginia Tech
Titilayo Fasoro, an aerospace engineering major from Illinois Institute of Technology
Judith Garcia-Castro, a computer science major from The University of Texas at El Paso
Rose Gebhardt, a mechanical engineering major from The Cooper Union
Jose Gomez, a mechanical engineering major from University of Illinois at Chicago
Melissa Hinrichs, a physics major from Hastings College
Kendall Johnson, a mechanical engineering major from University of Maryland, Baltimore County
Aeowyn Kendall, a physics major from Messiah College
Marco Morales, a mechanical engineering major from University of Illinois at Chicago
David Tanous, a mechanical engineering major from Lehigh University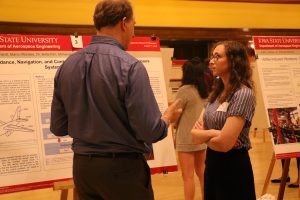 One of these students, Kendall Johnson, applied to the LAUNCH-REU program after talking to one of his professors who encouraged him to get involved.
"I always wanted to get my hands into research, but I wasn't really sure where to start," Johnson said.
For Johnson, LAUNCH-UAS has been a great experience to learn how research is done and apply new skills to his work. Johnson's project, "Testing YOLO Object Detection in Real Time," was to create a YOLO (You only look once) algorithm for racing drones that gave them the ability to avoid objects in real time.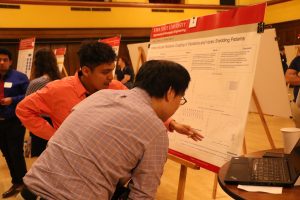 As a mechanical engineer, coding is not something Johnson was previously familiar with. However, LAUNCH-UAS gave him the skills he needed to learn coding skills and apply them to his research.
In Ahn's opinion, LAUNCH-UAS's first year has been a success. This was due to what he called a synergy between hardworking students, a graduate assistant, and staff and faculty in the Department of Aerospace Engineering.