A diverse group of students (and one teacher) from across the state has made its way to Ames to participate in the sixth-annual of the Spaceflight Operations Workshop.
The Spaceflight Operations Workshop is an annual summer program in the Iowa State University Department of Aerospace Engineering, developed and coordinated by retired astronaut and current Iowa State faculty member Clayton Anderson. The 2019 Spaceflight Operations workshop will run from Aug. 7-18.
"Spaceflight Operations is a concept – it's a thought process. When you live and works as an astronaut, you think in an operational sense. The idea with this workshop is to change the students' way of thinking – to open their eyes to a way to think more operationally," Anderson said.
Twelve students are enrolled in the program this summer, and come from Iowa State, University of Iowa, and DMACC. Also included is a high school teacher from Panorama High School in Panorama, Iowa. Student participants are majoring in the expected – aerospace, mechanical, industrial and materials engineering –  as well the more unexpected – elementary education and a masters degree in teaching.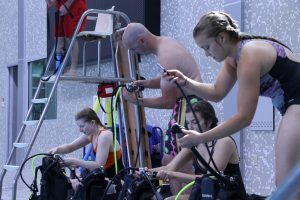 Whatever the educational background or planned career, all participants will learn to think like an astronaut for 12 days through a variety of activities. Students will learn and be certified in scuba diving, in order to learn how to operate in a 3-D zero-gravity environment, culminating in an open-water dive at Brushy Creek. Participants will also receive lessons in flight simulation, leadership and team development, and operational procedures.
On Aug 15-18, workshop participants will put their week of astronaut training to use as they embark on a three-day wilderness preparedness expedition, where they will learn expeditionary behavior, teamwork and mission planning.
"This program develops leadership skills and teaches students how to work with teammates and take that mindset to tasks in school and with their future employers," Anderson said.