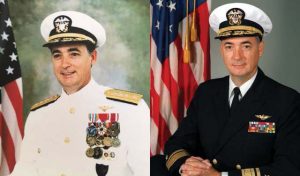 A distinguished graduate of Iowa State's Department of Aerospace Engineering and a decorated veteran has died. Retired Rear Admiral Ronald Narmi passed away May 21, 2019, at the age of 86. He most recently resided in Arlington, Virginia.
Narmi, a native of Council Bluffs, Iowa, was a Naval ROTC student at Iowa State and earned a B.S. in aerospace engineering in 1955. He was the university's first midshipman to be promoted to flag rank.
A 30-year career in the U.S. Navy included service in the missile branch of the SLBM Polaris/Poseidon/Trident Project Office and as deputy project manager for procurement of all antisubmarine weapons systems. He commanded a P-3 Orion squadron, a P-3 Wing, and also the Industrial College of the Armed Forces (ICAF), the largest joint service senior war college. As deputy supreme allied commander Atlantic, he commanded all NATO forces in Iceland responsible for the air and antisubmarine defense of the North Atlantic. In addition to his Iowa State degree, Narmi earned M.S. degrees in nuclear physics from the Naval Postgraduate School, in systems management from the University of Southern California, and in national security policy from George Washington University. He also attended executive training courses at Harvard University and at Oxford University in England. He is a distinguished graduate of the ICAF 10-month resident course.
Narmi holds the distinction of being the first ISU Navy ROTC graduate to be promoted through the ranks to rear admiral, the third-highest rank in the Navy. He received 14 military decorations and earned the Iowa State Professional Achievement Certificate in Engineering in 1984. As a student at Iowa State he was a member of the Delta Tau Delta fraternity.
He was inducted into the Department of Aerospace Engineering Hall of Distinguished Alumni in 2010 and into the Iowa Aviation Hall of Fame in 2017.
At the time of this writing no memorial service had been scheduled. Memories of Narmi may be shared online here.