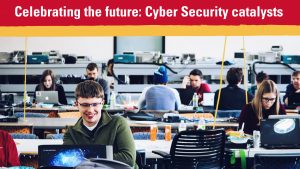 The Department of Electrical and Computer Engineering (ECpE) at Iowa State University has dedicated over a decade to the advancement of cyber security. From cyber defense competitions to a new Cyber Security Engineering major launching in the fall of 2019, cyber security is fueling the future at Iowa State.
This year, ISU's Information Assurance Center recognized the monumental growth of cyber security in ECpE with a Cyber Security Panel, celebrating the new major and the value of cyber defense competitions. The panel consisted of many ISU alumni sharing their appreciation for their ISU degrees and their opportunities to participate in competitions.
Ed Svaleson, a 2008 graduate in management information systems with a minor in computer science, and Ben Blakely, a 2012 Ph.D. graduate in computer engineering with a minor in psychology and political science, both participated in the panel. Both Svaleson and Blakely said the adventure students experience at Iowa State is more impactful than many other colleges and courses they've heard about.
For Svaleson, the cyber defense competitions were significant in guaranteeing him the position he is in right now, an executive position at Accenture, a global management firm providing digital and consulting services to the public.
"Long before becoming an executive in the largest cyber security practice in the world, I was a student just like those in the room participating in the competitions, the [Information Assurance Student Group] IASG, and studying security in classes," Svaleson said. "My company seeks and hires some of the best and brightest in the world, and while as a new joiner that felt a little intimidating, I was surprised how my hands-on practical knowledge and experience of performing and defending against cyber attacks helped give me a leg up when starting my career."
When Blakely was pursuing his degree at Iowa State, he was very involved in the cyber defense competitions, as well. Blakely stressed that the level of growth resulting from these competitions was limitless.
"I've had the opportunity to participate in and lead at least a dozen CDCs at ISU and elsewhere. I've played blue team, red team and white team," Blakely said. "I've seen firsthand how these events build skills, motivate students to pursue careers in this area, provide networking opportunities that are perfectly suited for engineering students and provide a realistic (if somewhat construed due to time constraints) experience of the stresses and exhilarations of a career in information assurance."
In a cyber defense competition, students defend networks in teams. The competition is timed, so many students work under a lot of pressure while trusting their peers to do their part. Students learn to efficiently plan, protect, detect, respond and recover from cyber attacks, skills not typically taught in the classroom.
Doug Jacobson, University Professor in ECpE and faculty leader of the new cyber security engineering degree program, stresses that cyber defense competitions prepare students for the future in more ways than technological experience.
"The competitions give students experience with teamwork and learning to communicate effectively," Jacobson said. "They learn to communicate with others,, and they build a community with each other. It really helps build this community among cyber security."
Along with recognition of cyber defense competitions' strong impact on students and their futures, the panel kicked off a celebration of the new major.
Since 1995, faculty members have been researching and teaching cyber security in ECpE at Iowa State. When pursuing this new four-year degree, students will develop a solid infrastructure for computer engineering, while also applying the problem-solving mindset of an engineer. This new major is predicted to enable students to solve complex cyber security problems of the future.
"Students with the Cyber Security Engineering major will be able to build onto their computer engineering foundation and better understand cyber security," Jacobson said. "This major will also allow students to stand out from other cyber security people around the country because they are engineers. Cyber itself is one of the most complex systems out there, and I argue that we need to have engineers to solve cyber security's complex problems."
According to Jacobson, there are plenty of science-based cyber security majors, but only three schools in the country (including ISU) of an engineering-based degree in cyber security. And with Iowa State's method of applying real-world concepts in the classroom, Jacobson said students at ISU will be uniquely prepared for their future.
"My experiences at ISU help me every day to do my job with a practical way of thinking like an attacker to protect our markets, our cities and everyday people," Svaleson said. "I've had coworkers tell me that I think differently, and I think part of that is that I think like a Cyclone."