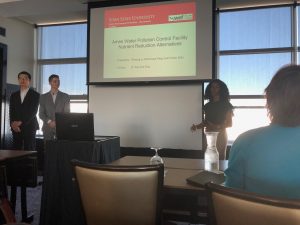 The Water Environment Federation (WEF) ISU Student Chapter competed in the Central States Water Environment Association (CSWEA) Student Design Competition on April 8 in Madison, Wisconsin.
"This organization connects what we learn in class with real-world problems," said Peiyang Li, a member of WEF at ISU and a student in biological systems engineering. "It provides a great opportunity to meet with professionals and learn from them."
CSWEA is a WEF member association organization comprised of members from Illinois, Minnesota and Wisconsin.  The competition is open to both undergraduate and graduate students.  There were a total of eight teams competing at this year's design competition. WEF at ISU placed first in the category of wastewater design.
"After the presentation was concluded, the first comment from one of the judges was to compare our work to a professional engineer's," said team member and civil engineering student Joao Zolin. "That made our team incredibly proud of our work."
As the winner, WEF at ISU is invited to represent the Iowa Water Environment Association (IAWEA) at the national level of the WEF Student Design Competition, held during the Water Environment Federation's Technical Exhibition and Conference in Chicago, Illinois, on September 21-25, 2019.
"As an undergraduate student, preparing for this competition challenged me to learn things I have yet to encounter in a classroom," said Dominique King, a member of WEF and a civil engineering student. "I'd like to thank my teammates for their amazing work, time and effort. I'd like to thank the faculty advisor of the ISU Chapter of WEF, Dr. Say Ong, for his guidance. Finally, I'd like to thank the Central States Water Environment Association for hosting such a wonderful competition that allowed me to showcase my knowledge. I hope to present our preliminary design for improved nutrient removal for the Ames Water Pollution Control Facility at the WEFTEC Conference in September!"
WEF at ISU is advised by Say Kee Ong, Cerwick Faculty Professor in Iowa State University's Department of Civil, Construction and Environmental Engineering.
---
For more information, visit our website, www.ccee.iastate.edu. Also, follow @isuccee on social media, including Facebook, Twitter, Instagram, Snapchat and LinkedIn (search "Iowa State University Civil, Construction and Environmental Engineering" and "ISUConE").