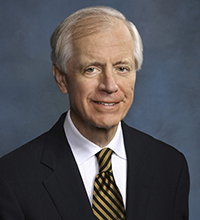 Gary Griswold ('67 chem engr) is a recipient of the ISU Alumni Association's Distinguished Alumni Award, the highest honor given to alumni by Iowa State. The award honors ISU alumni who are nationally and/or internationally recognized for preeminent contributions to their professions or life's work.
Griswold has dedicated his career to advocating for innovation. He practiced intellectual property law for 34 years during his career with DuPont and 3M Company, culminating in his induction in 2014 into the IAM Intellectual Property Hall of Fame – an honor that has been bestowed upon only 78 individuals worldwide.
As the chair of the Coalition for 21st Century Patent Reform, Griswold played an instrumental role in the passage of the America Invents Act, which was signed into law by President Barack Obama in 2011, and was invited to the White House to celebrate its enactment and meet with President Obama.
The coalition was just one of many professional and advocacy organizations to which Griswold has committed his time and talent. He is past president of the Intellectual Property Owners, Inc., the American Intellectual Property Law Association, and the Association of Corporate Patent Counsel. He is a Fellow of the American Intellectual Property Law Association and a former member of the Council of the Intellectual Property Law Section of the American Bar Association. He was a member of the Board of the National Inventors Hall of Fame Foundation and was a member of the U.S. Secretary of Commerce's Industry Functional Advisory Committee on Intellectual Property Rights for Trade Policy Matters.
Griswold says he is forever indebted to his Iowa State experience, which inspired his career. In that spirit, he has given back to the university in many ways – including service to the Department of Chemical and Biological Engineering Advisory Council, College of Engineering Industrial Advisory Council, ISU Research Foundation Board (current chair) and the ISU Foundation finance committee. He and his wife, Michele, are ISU Foundation governors, Order of the Knoll President's Circle and Campanile Society members and ISU Alumni Association life members. They have established the Griswold Undergraduate Research Intern program in the Department of Chemical and Biological Engineering.
In addition to his bachelor's degree in chemical engineering from Iowa State, the Rockwell City, Iowa, native earned his master's in industrial administration from Purdue University and a J.D. from the University of Maryland. He and his late wife, Sandra, a 1967 Iowa State graduate, have two sons: Galt Griswold and Cortland Griswold.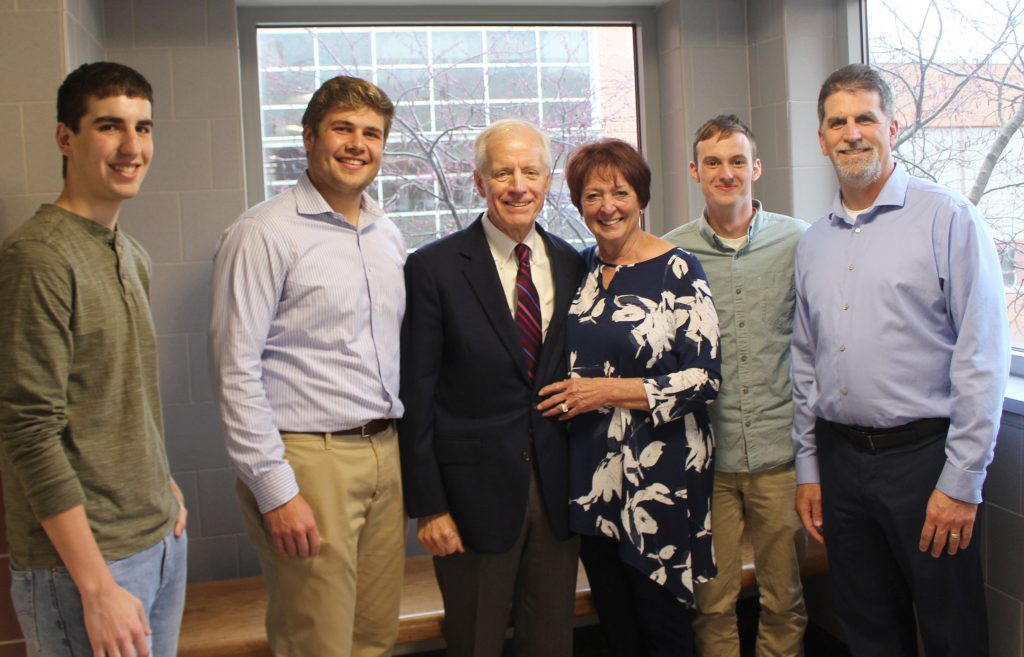 Gary Griswold met with current and former Griswold Undergraduate Research interns on April 25 at a reception hosted for Griswold by the Department of Chemical and Biological Engineering. Shown here are (left to right): Charlie Truka, sophomore in chemical engineering and current Griswold intern; Noah DeRoos, junior in chemical engineering and former Griswold intern; Gary Griswold; Mickie Griswold; Jake Nelson, senior in chemical engineering and former Griswold intern; and Andrew Hillier, Reginald R. Baxter Endowed Department Chair in Chemical and Biological Engineering.