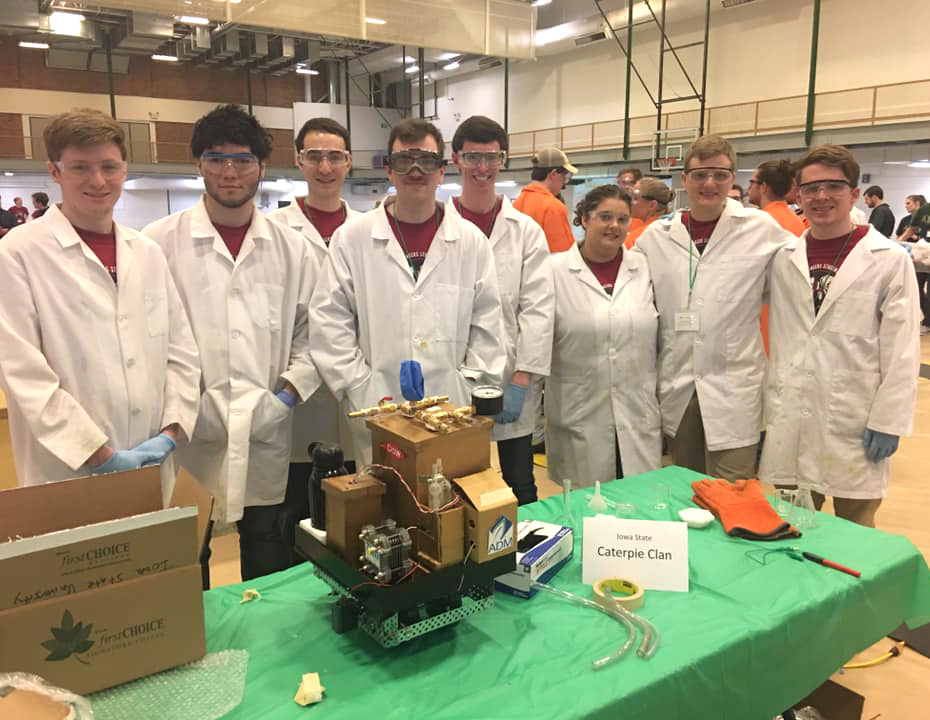 Third place finish in regional sends ISU to national competition for fourth straight year; Martin Asama takes first in research posters
For the fourth consecutive year, an Iowa State University team will be taking part in the national Chem-E-Car competition with the American Institute of Chemical Engineers (AIChE).
The Iowa State Department of Chemical and Biological Engineering (CBE) contingent, made up of 24 undergraduates, took part in the recent AIChE Mid-America Student Regional Conference at Missouri University of Science and Technology, Rolla, Missouri. The conference brings together students from a number of Midwestern colleges and universities to take part not only in the competitions, but other development and fellowship events. CBE's faculty advisor was senior lecturer Stephanie Loveland.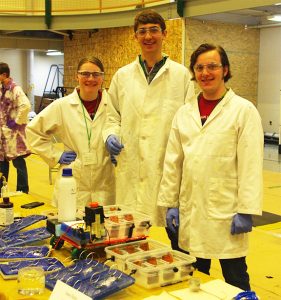 ISU CBE entered two teams in the Chem-E-Car competition, which features student-designed miniature vehicles that are both powered and stopped by chemical reactions. The cars compete one at a time on a designated course, and the distance from the finish line to when the car stops is measured and recorded.  The top three finishers advance to the competition at the Annual AIChE Student Conference, which will be held in Orlando, Florida this year, November 8-11. Team "Caterpie Clan" claimed a third place finish in the competition and advances to the nationals.
"The car runs on a hydrogen fuel cell with a reaction of sodium hydroxide and aluminum as the hydrogen source," Loveland explained. "Team members stored some of it in a balloon to ensure constant flow of hydrogen during the trial. The stopping mechanism is the decomposition of hydrogen peroxide using potassium iodide as the catalyst. It produces oxygen as a product, and the oxygen was used to displace an electrolyte solution that completed a circuit between two copper electrodes. When the electrolyte is displaced, the resistance between the electrodes suddenly increases, and this signals an Arduino (an open-source electronics platform based on easy-to-use hardware and software, intended for interactive projects) to cut power to the motor."
In addition to ending up third in the distance competition, Team Caterpie Clan also placed first in the Chem-E-Car poster competition. ISU's team "Golden Galvantulas" also showed well, netting a fifth-place finish in the Chem-E-Car distance competition, among 14 teams.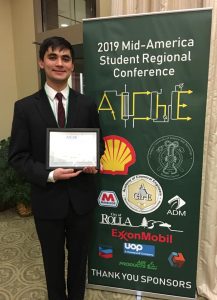 Martin Asama, president of Iowa State's AIChE chapter, also kept ISU in the spotlight when he finished first in the research poster competition. His research project is "Coextrusion of Coated Frozen Desserts." Asama's research poster was part of an honors project he undertook under the direction of Loveland, "But I can't take much credit for it, Martin did most of the work," she was quick to point out.
"In this project we focused on a novel but very enjoyable application of chemical engineering — chocolate coating of frozen ice cream droplets, also known as chocolate coated Dippin Dots," said Asama. Besides their improved taste, the chocolate coating increases their shelf life and facilitates easier distribution and storage. These challenges have confined Dippin' Dots to a relatively niche market, however, our invention should radically increase their market potential and allow ice cream drops to be cheaply distributed to supermarkets across the country without the need for expensive, low temperature, infrastructure. Our work focused on developing an economic and scaleable manufacturing system for these ice cream drops, and identified several potential challenges to industrial application. We are currently finishing a computational heat transfer model intended for process optimization and hope to have all trials finished within the next month."
The full list of Iowa State CBE students who took part in the conference:
Chem-E-Car Team "Caterpie Clan"
Stephen Adams
Michelle Ampuero
Joel Clancy
Jesse Gallegos
Bennett Kiecker
Bailey McCrea
Luke Rustin
Brodrick Sevart
Will Thomas
Bill Winnett
Spencer Wolfe
Chem-E-Car Team "Golden Galvantulas"
Taner Eiswald
Chris Gelina
Carmen Wilwert
ISU AIChE Officers
Chem-E-Car Chair – Tommy Krohn
President – Martin Asama
Vice President – Jamie Pryhuber
Merit Secretary – Anna Buchholz
Outreach Chair – Sarah Miller
Advisor: Dr. Stephanie Loveland
Research
Martin Asama
Jonah Brown
Jesse Gallegos
Alex Kauffman
Jamie Pryhuber
Luke Rustin
Brodrick Sevart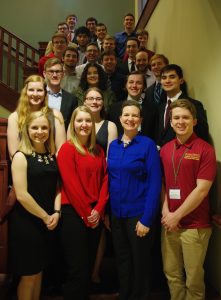 Chem-E Jeopardy
Anna Buchholz
Cameron Greenwalt
Alex Kauffman
Sarah Miller
Jamie Pryhuber
Stephen Richardson
Tyler Roling
Brodrick Sevart