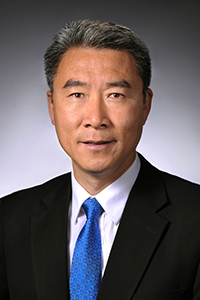 ISU College of Agriculture and Life Sciences Assistant Dean of Research, Egg Industry Center Director and Distinguished Professor Hongwei Xin leaves Iowa State after accepting the position of dean for agricultural research at the University of Tennessee.
Xin's research at ISU focused on air quality related to animal feeding operations. Some of his current projects look at improving air quality and air emissions in alternative, cage-free laying hen houses, understanding and mitigating the spread of avian influenza and developing instrumentation systems to measure and monitor animal behaviors. In addition to his duties, Xin served on numerous scientific advisory committees.
Xin received his bachelor's degree in agricultural engineering from Shenyang Agricultural University in China and his master's and doctoral degrees from the University of Nebraska-Lincoln.  
In the recent article
"UTIA Announces New Dean for AgResearch:"
In a letter to staff and stakeholders announcing Xin's appointment, Tim Cross, UTIA chancellor, noted Xin's deep understanding of the land-grant mission and collaborative style. Cross wrote, "Hongwei comes to UTIA with an international reputation for research and academic leadership. His work has had major impacts on U.S. and global animal agriculture and has produced significant contributions to scientific literature and engineering practices related to animal production systems." Xin has served as the principal or co-principal investigator of more than $23.7 million in competitive grants and contracts for research, extension and education programs. Xin is also known for his collaborative work in facilitating linkages between academics, research and economic development; supporting international academic partnerships; and raising significant private dollars to fund a state-of-the-art poultry teaching and research farm. "His wealth of experience will be invaluable to UTIA as we continue to explore ways to enhance our public-private partnerships," Cross wrote.