More than 250 Iowa State researchers came together to celebrate their work while exploring the work of their peers at the third-annual ISU Research Day on March 28.
ISU Research Day is designed to give Iowa State faculty and researchers an opportunity to interact outside their disciplines, enjoy research work that they don't usually get to see and find new areas of collaboration.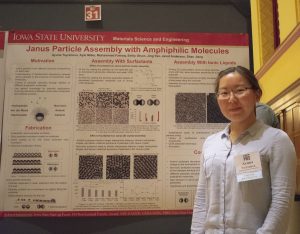 Ayuna Tsyrenova, graduate student in materials science and engineering, says she presents at ISU Research Day for two reasons. 
"At Iowa State we have so many great researchers on campus," said Tsyrenova. "I love to see how people present their work, and I'm looking for some creative ways to present mine. Secondly, I will walk around and just see something relatable for future collaborations."
The event featured a poster session where researchers presented their ideas and interests, four-minute lightning talks and Story Collider talks, a storytelling session where narration is intertwined in personal research and scholarship.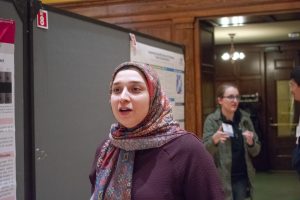 Margaret Hedstrom, Robert M. Warner Professor of Information Services and Interim Director of the Museum Studies Program at the University of Michigan, was the keynote speaker. Hedstrom spoke about the transforming public access, promoting openness and scholarship, with meaningful use of data and scholarship. 
"ISU Research Day is really interesting because there are different people from different departments. Here there are different people with different majors and different departments. This is a great step in making collaborations and networking," said Zahra Davoudi, graduate student in chemical and biological engineering.