Engineering a global education
by Lindsay Moeller
As a software engineering major, Willem Paul ('20 software engineering and LCP German) did not expect to also major in German when he started out as a student at Iowa State University.
"I came to Iowa State with German credits from high school. I knew I wanted to continue studying German, but I wasn't planning on a major—I just wanted to take the courses for fun," recalled Paul.
Paul quickly learned about the Languages and Cultures for Professions program available through the Department of World Languages and Cultures (WLC).
"I learned about LCP from a classmate who was an LCP ambassador," Paul said. "I learned how the LCP German major would fit it. It was pretty seamless because I was already planning on taking all of those German classes."
LCP provides students coursework tailored to learning about professional issues, international environments, cultural practices and language — all paired with a primary major in the College of Agriculture, College of Business or College of Engineering. An important component of the program is that an experience abroad — either an internship or study abroad program — is required as part of LCP.
Through these experiences abroad, students like Paul are able to learn valuable skills that will help them become prepared for their professional careers while becoming culturally adept and learning a foreign language.
"Anecdotally, we know that students report over and over that the international experience is the focal point of job interviews," explained Chad Gasta, professor and chair of WLC. "And job recruiters differentiate between the programs where students go just a week abroad —more like a vacation — versus more time abroad."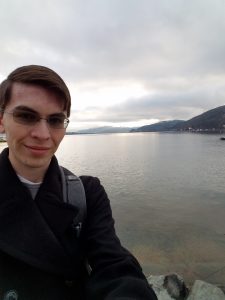 For his abroad experience, Paul studied abroad in Austria for an entire academic year through Bowling Green State University in Ohio. He worked on his German language skills, but learned so much more.
"The language aspect is important, but the cultural undertones are important in everyday life," said Paul. "German speakers are pretty direct and to the point. As an introvert, it was a bit of an adjustment."
Courses in LCP help students prepare for their time abroad. Paul's first German class at Iowa State was German for Business and Professions.
"I learned about communicating with employers in German, general cultural things about working in a German-speaking country and useful vocabulary for different scenarios in the workplace," Paul recalled.
Through his classes, Paul is able to be supported and get the kind of attention he needs through smaller class sizes and great mentors.
"Classes tend to be smaller," said Paul. "Closer relationships are helpful when learning a new language since it is difficult to learn a language on your own."
Now an LCP ambassador himself, Paul helps to connect other Iowa State students to the program and have the opportunities he would not have taken advantage of if he were not in the program.
"Studying abroad for a year was the best way to go, and I don't know if I would have gone for a full year if it weren't for LCP."
Connect with the LCP program and learn more by visiting language.iastate.edu/lcp/.