Micro-g NExT, a student project in the Department of Aerospace Engineering's Make to Innovate (M:2:I) program, has been selected to move into phase II of the prestigious challenge developed by NASA. The newly created Micro-g NExT team submitted a 30-page proposal last semester to design and manufacture an Extravehicular Activity (EVA) camera mount. The proposal was accepted, along with proposals from 23 other teams from various universities, to move forward through this spring and into summer.

The goal of Micro-g NExT is to challenge undergraduate aerospace engineering students to design, build and test a device that addresses a real life space exploration challenge. Now that the initial proposals have been accepted, ISU's team will develop EVA tools to be reviewed and critiqued by NASA and other technical advisors.
"The overall ending goal is to create a prototype and design that NASA not only accepts and approves of but would want to later fly and test in the actual International Space Station," Ty Sandene, Micro-g NExT Project Lead said. "We want to have our camera mount or at least aspects of our camera mount be used."
The team is currently working on building their prototype for the challenge. Once they finalize their product and go through a series of testing, the EVA camera mount will be tested and reviewed at the Johnson Space Center Neutral Buoyancy Lab in Houston.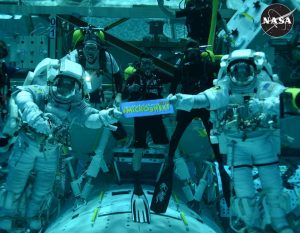 This is Iowa State's first year participating in the Micro-g NExT challenge. It was brought to ISU through Evan Wieczorek, a senior studying aerospace engineering, who had been introduced to this challenge during his summer internship at NASA's Johnson Space Center.
"When I was introduced to it, I immediately wanted to bring it to Iowa State," Wieczorek said. "I submitted a request to M:2:I that was approved, Tomas (AerE senior lecturer Tomas Gonzalez-Torres) became the advisor and then we built a really dedicated team which we have been really fortunate to have done."
Last fall, the team had to brainstorm ideas to create a computer-aided design (CAD) of the camera mount that they were planning on manufacturing. These designs were submitted in the proposal, along with detailed descriptions of the product, how it will be manufactured and how it will be successful.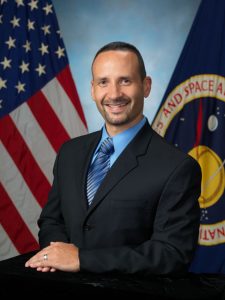 One of the biggest motivators for the Micro-g NExT effort has been the team advisor Gonzalez-Torres. His experience with NASA has advanced this team's understanding of the design and manufacturing process of a real space challenge. He has given most of the responsibility to the students so they can problem-solve together and learn through their mistakes and successes.
"After seeing the challenge requirements, I initially noticed that NASA could solve these issues right now – but they want a better solution," Gonzalez-Torres said. "They want something that can adjust to different scenarios and that's what got the team's brainstorming process going."
The EVA camera mount was specifically designed to help astronauts simplify their camera operations. With every design feature the team made sure that an astronaut could easily operate the camera mount with few complications. In order to accommodate for that the EVA camera mount will feature two handles with a flexible ball jointed arm that supports the camera itself, so the astronaut can easily grab the mount and clamp onto all three interfaces.
"We wanted things to be simple for astronauts because they have a lot of other really complicated things to worry about," Gonzalez-Torres said. "The intent of these challenges and of M:2:I is to be able to look at a challenge and break down the project starting with the whole design process, the brainstorming process and working as a team. The goal for these teams are to really look at the requirements that have been levied by NASA and break it down into what it really means and be able to apply that then into a design."
See the Iowa State Micro-g NExT team's web site here, and the NASA Micro-g NExT web site here.