Two juniors in mechanical engineering, Jacob Koutas and Scott Zmuda, play soccer with the ISU Men's Soccer Club. Their time management skills lead to success both in the classroom and on the field.
Q: Tell me a bit about yourself.
Jacob Koutas: I am from Rolling Meadows, Illinois. I chose to attend Iowa State because of its great engineering program and the beautiful campus. I decided on mechanical engineering because my brother and I are very similar and we both thought mechanical engineering was a very good fit for us.
Scott Zmuda: I'm from Coal Valley, Illinois. I chose to attend Iowa State because I had heard good things about its engineering department, and it was also fairly close to home. I chose mechanical engineering because I enjoy solving problems, and by some definitions that's exactly what engineering is.
Q: When did you first start playing soccer, and what position do you play?
JK: I started playing soccer in leagues when I was three, in a five-year-old division. I play CF, or center forward.
SZ: I first started playing soccer in 1stor 2ndgrade.  I currently play center mid.
Q: Tell me about your team's trip to Alabama.
SZ: The Iowa State Soccer Club went to Gulf Shores, Alabama, to play in the NIRSA national club tournament. The team played well and we were able to win against Carnegie Melon as well as Xavier. Our final match was against UCLA, and although we played a good game, we did not win.
Q: What was ISU's record at the end of the season?
JK: Our record for the regular season was 9-3 and our record with our tournaments, (Invitational, Regionals, Nationals) has us at 14-7-1.
Q: What are your thoughts on the season?
JK: I thought we became stronger as a team, and this strength carried over into our games and we finished as strong as we possibly could. The hard games we won were very rewarding, and our play showed that we were a team most people did not want to play.
SZ: We had a successful season in 2018.  I was most impressed with our team's ability to improve as the year progressed.  We had some tactical shortcoming at the beginning of the season and had some players step up by changing their role on the team.  Those changes made a big difference and the team was able to end the season at nationals on a high note.
Q: Are you involved with any other student groups/clubs other than soccer?
SZ: Besides the soccer club, I am also involved in a student ministry called Salt Company.
Q: What advice would you offer to other students on how to effectively manage your time?
JK: It's important to set your schedule straight and set priorities where they need to be.  I only allow myself to take 16 credits while in season to complete my degree but also to prioritize my time to soccer when needed and school when tests come around.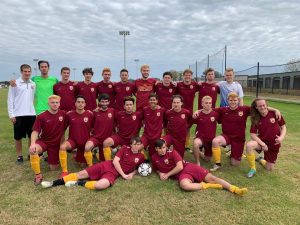 Find more photos and news here.