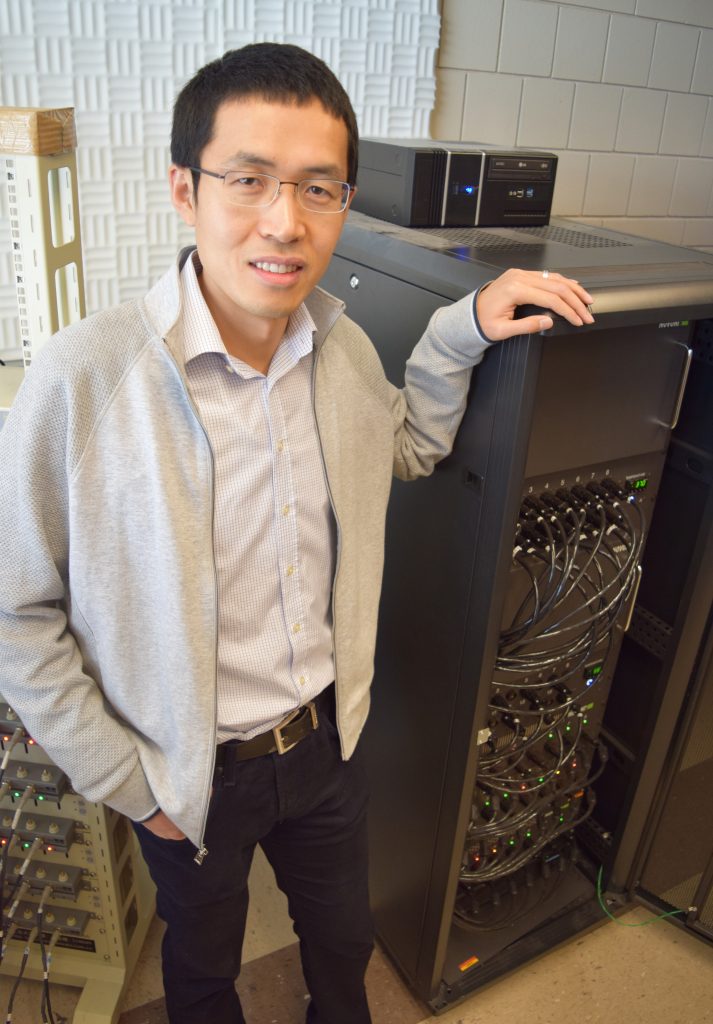 A mechanical engineering faculty member has received a young investigator award for his contributions in design automation from his field's largest professional society.
Chao Hu, an assistant professor of mechanical engineering (ME) with a courtesy appointment in electrical and computer engineering, is a 2018 recipient of the Design Automation Young Investigator Award from the American Society of Mechanical Engineers (ASME). The award recognizes "an outstanding young investigator who is making noteworthy contributions in the area of design automation, including research in design representation, design optimization, design evaluation, and/or design integration." Recipients must have obtained their last degree within the past seven years and be less than 40 years of age, be a member of ASME, and be in good standing with ASME.
Hu's research is focused on developing new methods for simulation-based design and sensor-based prognostics that can be used to design engineered systems for failure resilience. As such, his research expertise is in the areas of engineering design under uncertainty and post-design failure prognostics and has applications within wind turbines (energy generation), lithium-ion batteries (energy storage), and large-scale structural systems. The ultimate goal is to enable these engineered systems to achieve and sustain near-zero breakdown performance.
"It was a great honor to receive the Young Investigator Award. It shows that designing failure resilience in engineered systems is recognized of increasing importance in the engineering design society," said Hu. "I want to express my special thanks to Dr. Judy Vance, who nominated me for this award, and my research group, the System Reliability and Safety Laboratory, or SRSL, who have all put tremendous efforts over the past three years to advance this line of research."
Hu added that it is important to bring solutions for post-design failure prediction/prevention into early-stage system design.
"This represents a promising way to meet the need of safety-critical systems, such as airplanes and bridges, for design methods that can ensure near-zero breakdown performance," he said.
This marks the fourth ASME award for Hu, who holds a BE in Engineering Physics from Tsinghua University and a PhD in Mechanical Engineering from University of Maryland-College Park. He received Top 10 Best Paper Awards at the ASME Design Automation Conference in 2011 and 2012 as well as the Ford Motor Company – Best Paper Award during the 2013 ASME Design Automation Conference.
The award was presented during ASME's 2018 International Design Engineering Technical Conference (IDETC), which was held on August 26–29, 2018, in Quebec City, Canada. Hu is the eighth recipient of the award.