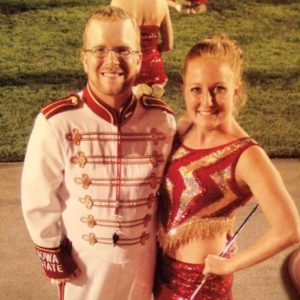 An Iowa State University aerospace engineering alumnus and his wife, also an ISU graduate, have claimed a place in ISU homecoming history by being the first "Cyclone Sweethearts," in what may become a new addition to the celebration.
Adam Kempers (aerospace engineering '04) and Allison Arnold-Kempers (early childhood education '06) will be in the spotlight during this homecoming weekend as the event's "first couple." Activities will include being featured on stage at the homecoming pep rally October 26, leading the "mass Campeniling" on central campus at the stroke of midnight October 27 and performing with the Alumni Marching Band at halftime of the Iowa State-Texas Tech football game that day.
The two met when they wound up together in the Iowa State University Cyclone Football Varsity Marching Band, where Allison became a feature twirler after transferring to Iowa State and Adam became one of the band's drum majors after starting his band experience in the drumline.
Better known to classmates and bandmates by his nickname of "Shorty," Kempers explained that the monicker came about in the dorms in his freshman year at Iowa State. "Fifth floor Storms Lovelace. We were mostly freshmen in there and it was hard to remember everyone's name. I was the shortest one on the floor…and the rest is history."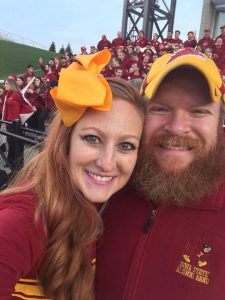 After graduating in the spring of 2004 Adam accepted a job at Rolls-Royce North America in Indianapolis while Allison remained at Iowa State to finish her degree. But he always made time to travel back for each ISU football game to see Allison twirl with the band. They were married in 2005 and now live in the Indianapolis area with their two children, where they remain forever true Cyclones and can frequently be found on the highway heading for Ames for Iowa State events – but this trip will be extra special.
See Adam and Allison's full story on the Iowa State University Alumni Association web site.