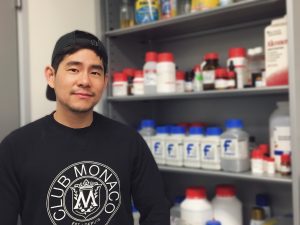 An imbalance of certain chemicals in bodies can lead to a growth of diseases and illnesses. However, right now measuring the chemical levels of bodies is typically only possible with a trip to the doctor's office.
But now, with the work of Taejoon Kong, a graduate student at Iowa State University, it may soon be possible to measure chemical levels in bodies like glucose, nitrite and protein — all by only using paper.
Kong recently traveled to a conference in South Korea to present a poster over his creation and is one out of three winners from CHEMINAS (The Society for Chemistry and Micro-Nano Systems) for "best poster."
Kong's device is portable and cheap and measures multiple chemicals at a time. This paper microfluidic device is powered by the biological sample (like sweat, blood or urine). The sample liquid causes the paper to expand, allowing the liquid to travel throughout the device.
"It is like a portable device, and whenever someone wants to diagnose a disease, they can put the saliva, urine or any biological sample on the device," Kong said.
People using the device can see their glucose, nitrite or protein levels through a color change on the paper. And if someone only wants to measure a certain chemical, like glucose, there is a switch built into the device allowing people to control what they measure.
"If people want to specifically choose the disease they want to test, they have a switch to allow the person to change the switch from off to on for a certain chemical," Kong said. "When the switch for a chemical is off, the liquid will not flow to that spot because the switch will block that chemical measuring strip."
But the main goal of this device is to allow people to measure multiple chemicals on their own at an affordable price, without making a potentially expensive trip to the doctor.
"For people in a poorer country, it is more efficient if they can buy one device to measure multiple potential diseases rather than one device for each disease," Kong said.
Santosh Pandey, an associate professor in the Department of Electrical and Computer Engineering at ISU, has been advising Kong throughout this project.
"Taejoon is very hardworking. If I ever tell him that we have to do something, he will pursue it," Pandey said. "He loves to take on challenges."
Kong created this paper microfluidic because he believes people should have access to easy, portable and cheap ways to measure diseases. This device is so cheap because rather than using a magnetic or electrical circuit, the device has a switch system and measurement abilities made entirely of paper, with the liquid samples being their own free power source.