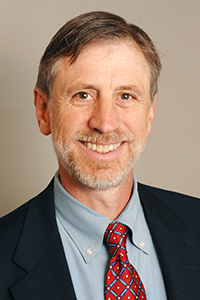 San Diego, CA ― The National Academy of Construction (NAC) has elected Charles "Chuck" Jahren, the W. A. Klinger Teaching Professor, construction engineering division leader, and associate department chair in Iowa State University's Civil, Construction, and Environmental Engineering Department, as a member of its 2018 class. He was inducted on Oct. 11 at the academy's annual meeting, which was held at the U.S. Grant Hotel in San Diego. The 2018 class includes 37 new inductees. More than 300 leaders were considered for NAC's rigorous nomination and election process.
During the formal induction, Jahren was noted as a transformative faculty member and mentor known internationally for innovative approaches in construction engineering education, both on-line and with face-to-face instruction.
"This new class of academy members has been selected based on outstanding contributions to the design and construction industry over a career," said Wayne Crew, General Secretary of NAC. "Their collective achievements bring added expertise to the academy."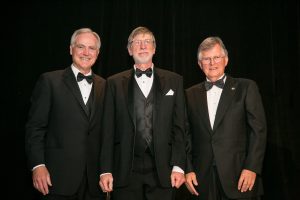 Jahren has helped transform construction education with mock bid-letting exercises, freshmen learning communities and hybrid learning in on-line and face-to-face instruction. During more than 30 years in education, he has incorporated advancing technologies into the classroom. He also has mentored seven Ph.D. candidates, more than 70 master's candidates, and more than 350 undergraduates. He helped to establish the American General Contractors of Iowa Foundation Board of Trustees as well as the ACE Mentor Committee Board of Advisors. He has served as editor-in-chief of the top-rated Journal of Construction Engineering and Management by the American Society of Civil Engineers (ASCE) and is the current chair of that publication's editorial board. ASCE recognized him in 2011 with the Richard R. Torrens Award for exemplary performance as an ASCE journal editor.
Jahren holds bachelor's and a master's degrees in civil engineering from the University of Minnesota and a doctorate with a specialization in construction from Purdue University.
The National Academy of Construction, established in 1999, is an organization of industry leaders― construction users, engineers, designers, constructors, consultants, attorneys, sureties and academics― who have made outstanding contributions to the design, construction and engineering industries. In addition to being a personal honor, election to the academy allows members to volunteer their expertise to a variety of organizations, governmental and nongovernmental, for the betterment of the industry as a whole.
Follow ISU CCEE on Facebook, Twitter and LinkedIn (search "Iowa State University Civil, Construction and Environmental Engineering" and "ISUConE"). NEW: now follow ISU CCEE on Snapchat and Instagram for the latest updates.
Article by Rusty Haggard for National Academy of Construction