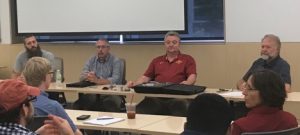 This story was originally written by Steven Bell, senior lecturer in the agricultural and biosystems engineering (ABE) department at Iowa State University. 
On Sept. 21, Iowa State University's Agricultural and Biosystems Engineering Department (ISU ABE) hosted the 2018 Startup Factory Prototyping and Manufacturing forum. The forum is an offering within the ISU Startup Factory. The ISU Startup Factory (a service unit of ISU Economic Development and Industry Relations) is a 52-week intensive program housed at the Iowa State University Research Park (ISURP). For those companies who are product development focused, the forum presented a concept-to-contract manufacturing overview of rapid prototyping and additive manufacturing options available within the state of Iowa. In addition to entrepreneurial company founders, representatives were in attendance from EDIR and several Iowa Small Business Development Centers (SBDC) and Pappajohn Centers from across the state.
An expert panel that addressed current need from the company owners was followed by a tour of the ABE plastics and metals lab facilities. Panel expertise from the private sector included Jim Johnson, COO of Ottumwa-based Angstrom Precision Molding, and Brandon Hart, founder of Des Moines-based HartSmart Products. ISU was represented by Iowa State Center for Industrial Research and Service (CIRAS) Manager Chris Hill and ABE faculty member Russ Hoffman.
The Startup Factory movement is led be serial entrepreneur and Iowa native-turned-Silicon-Valley-success-story Bill Adamowski. Adamowski joined the EDIR team to focus on growing the network of innovation throughout campus. He crafted the framework for the Startup Factory and CyStarters using best practices from such institutions as the Massachusetts Institute of Technology (MIT), Stanford University and other successful accelerators. Entrepreneurs in the Startup Factory receive formal training, resources and access to a network of business mentors, advisors, counselors and investors in two 26-week blocks; the first a formal curriculum centered on business validation and the second a customized plan to individual business needs. The goal is to position Iowa State among the top five universities nationally in startups within five years.