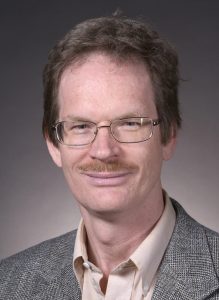 Promoting international experiences and an awareness of "thinking globally" will hold a place of higher importance in the Department of Chemical and Biological Engineering's (CBE) curriculum and among its faculty thanks to gifts from a department alumnus.
The gift from Hershel (ChE '49) and Ethel Whitney funds two important priorities in the department: the Hershel B. Whitney Global Initiatives Program, which offers support for student international travel; and the Hershel B. Whitney Professorship, Global Initiatives, which recognizes and promotes international involvement through support of a CBE faculty member. This endowed professorship will inspire and encourage the leadership, development, enhancement, promotion and sustainability of international experiences for the chemical and biological engineering department and Iowa State.
CBE's Anson Marston Distinguished Professor Rodney Fox has been named the inaugural holder of the Whitney Professorship. His title will now also reflect "Hershel B. Whitney Professor, Global Initiatives." Through this position, Fox will focus on promoting global initiatives through his teaching and research and by developing new international opportunities for students. Fox has extensive international experience, including a six-month appointment at Ghent University in Belgium as the International Francqui Chair in 2017.
"I very much appreciate the support provided by the endowment to international activities in CBE. In my opinion, it is very important for Iowa State CBE students to learn to think globally in preparation for their careers," Fox remarked.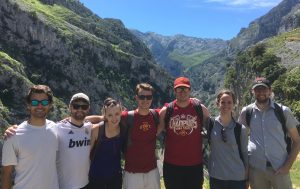 One of those very opportunities is CBE's popular Oviedo, Spain Summer Lab Program. Students in this program have already seen benefits from the Whitney Global Initiatives fund, as all eight students who participated this year received financial assistance. Students who wish to participate in the program will also be able to apply for the financial support from the Whitney fund to help defray costs associated with travel, living expenses and tuition for the Oviedo Lab. The study abroad program is a cooperative venture between Iowa State, the University of Oviedo, Spain and the University of Wisconsin. The intensive five-week program offers a significant amount of valuable hands-on laboratory experience for participants, plus the chance to experience the culture and attractions of Spain. It is held from late May-mid June each year.
For many Iowa State students, a study abroad experience is their first time traveling outside of the Unites States and their first valuable opportunity to explore other countries and cultures. But participation can be expensive, and students wishing to participate in such programs often need financial support. The Whitney fund helps make this goal more attainable for CBE students in the Oviedo program.
Andrew Hillier, professor and chair of Chemical and Biological Engineering, added "This generous gift helps us to make international experiences more
affordable for our students, and to increase opportunities for them to enhance their global awareness, which is becoming increasingly important in today's world."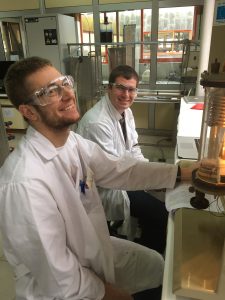 The Hershel B. Whitney Global Initiatives Program and Professorship honor the life and legacy of Hershel B. Whitney and his time at Iowa State. Whitney, who grew up in Kearney, Neb., received a B.S. in chemical engineering at Iowa State in 1949, and worked many years for Eli Lilly and Company in Indianapolis. His wife, Ethel, was also an Iowa State alum, graduating with a B.S. in family & consumer sciences, child development, in 1950. Both Whitneys are deceased, but their support of Iowa State lives on through their gifts. They have also provided for the Ethel L. Whitney Opportunity Scholarship in the College of Human Sciences. That scholarship benefits undergraduate students (with priority on female students) in that college who demonstrate a financial need and are least the age of 22 when entering college for the first time. Ethel was 22 years old when she began her college education and still graduated in the top five percent of her class.