This is part of a series featuring students from Team PrISUm who are competing in the 2018 Formula Sun Grand Prix (July 10-12) and American Solar Challenge (July 14-22). This year's race follows portions of the Oregon Trail, beginning in Omaha, Nebraska and finishing in Bend, Oregon.
For updates throughout the race follow PrISUm on Facebook and Twitter.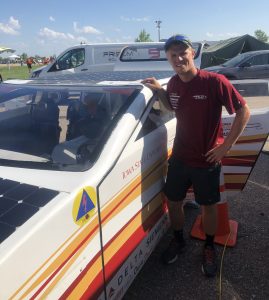 Name: Ben Sweet
Hometown: Stillwater, Minnesota
Year: Junior
Major: Mechanical Engineering
Role on PrISUm: Hatch Crew, Mechanical Response
Career aspirations: To work at a reputable engineering company and in doing so become the best leader I can.
Your favorite part of being on Team PrISUm?
The experience I get to learn while fitting classes into my schedule is amazing, no other program offers the level of hands on engineering that PrISUm does.
What advice would you have for a student interested in joining PrISUm?
Dive in head first, it will seem overwhelming at first and as if it's too much work but you'll learn a lot in the process.  A few years later you'll look back and think of how little you did then compared to how much you can do now.