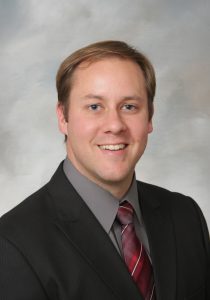 Joshua Jacobsen (indust tech '05) has been recognized by The American Society of Safety Professionals and Holmes Murphy as the 2017 Region V Safety Professional of the Year.
Jacobsen was honored on June 5 in San Antonio, Texas at the annual ASSP Professional Development Conference for this "significant award and honor."
There are eight recipients each year, a group of "well-rounded and effective safety professionals" from around the world.
"Josh has proven time and again that dedication, hard work, and an emphasis on innovation produce the best results," said John Hurley, Senior Vice President, Property Casualty Enterprise Leader, and Shareholder of Holmes Murphy.
As Senior Loss Control Consultant for Holmes Murphy, Jacobsen works to empower and advise up-and-coming safety professionals in ASSP's Iowa State student chapter, reportedly assisting in growing the chapter by 21 members in the 2016-2017 school year.
"Ensuring the next generation of safety professionals is engaged and interested in growing our field has always been a passion of mine. These students will soon be our colleagues, and their innovative ideas could effectively improve safety practices," stated award recipient Jacobsen.
At Iowa State, Jacobsen was involved in the industrial technology program with an emphasis in occupational safety and is now also studio manager and CEO for Forte Studios in Boone, Iowa, which he sees similarities in.
"Passion is key to motivation, but service to others and the desire to help them succeed over one's own self-interest creates effective relationships and plants the seeds for legacy," Jacobsen said.
The ASSP consists of 37,000 professionals who aim to create safe work environments across industries.
"It came as no surprise that Josh is being honored," Hurley said. "His tireless efforts to ensure we provide the best practices to our clients across the U.S. have proven effective. Josh is an essential part of the Holmes Murphy team, and we are glad to see him receive this recognition."