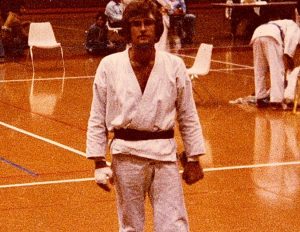 When 61-year-old Marlin Fischer graduated from Iowa State in 1980 with a B.S. in industrial engineering, a black belt in Tae Kwon Do and membership in Sigma Alpha Epsilon fraternity, his adventure didn't stop there. It was just beginning.
Fischer sought industrial engineering positions after graduation and landed one in Seattle, Washington.
But with a troubled economy in the early 80s, Fischer was laid off multiple times from industrial engineering jobs, including positions in Seattle and Portland, Oregon and as a teacher of industrial rely-logic computers to plant engineers at Boeing, Continental Can, Georgia Pacific, Weyerhaeuser and others.
No biz like show biz
Fischer's path took an unexpected turn when a woman approached him at a restaurant bar on a Friday afternoon asking, "Are you a model?" This had happened to Fischer multiple times, but this time was different.
The woman had connections with a modeling agency and got Fischer got his first modeling audition.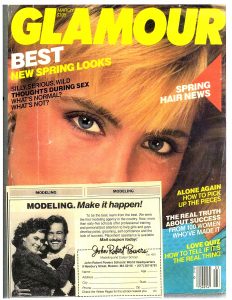 Curious about where it would lead, Fischer gave it a shot and landed a position as the spokesperson of John Robert Powers modeling agency in Boston, Massachusetts.
"Iowa State grew my ability to be confident and explore new opportunities," Fischer said. "Don't be afraid to make changes or do more than what is expected of someone with your degree. You never know where life will take you."
Fischer flew to Boston for a week-long photoshoot, and his photos appeared in various magazines and billboards across the country, including Glamour, GQ, Seventeen and Esquire.
After finding success in modeling, Fischer wanted to do something with a little more substance and action, so he thought he'd try his hand at acting.
"I was always pretty good at public speaking, but Iowa State taught me to solidify my means of expressing myself," Fischer said. "I grew in confidence through my courses at Iowa State and my position as a computer program teacher for industrial engineers."
Fischer drove to Los Angeles and began to pursue an acting career, landing roles in Days of Our Lives, the Young and the Restless, Capital and some movie parts, including the role of Ron Hubbard in Force of Darkness (1985).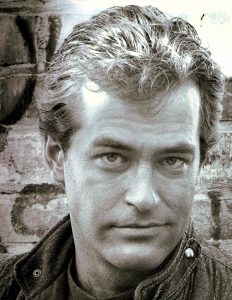 He also played Bill in Dynasty (1987), an ABC soap opera, where he worked with Heather Locklear in her first major television role and Officer Simon on an episode of Jessie (1984) with Lindsay Wagner, better known as "The Bionic Woman."
Fischer only told his parents back in Iowa about his acting career, but would get calls from friends saying, "I saw you on TV!"
During his time in Hollywood, Fischer crossed paths with some of the "greats," including Marlon Brando and Sofia Loren, and had a close relationship with Francine York. He was even praised for his snappy fashion taste on the red carpet by Richard Blackwell, renowned fashion critic and designer, commonly known as "Mr. Blackwell."
Fischer played other semi-recurring roles throughout his career in LA, as well as commercial and advertising parts for Western Airlines and Tri-State Honda, New York, which earned him royalties for about a year.
"Pursuing an acting career is a tough business," Fischer said. "I had a lot of fun while I was working, but you're taking odd jobs and more simplistic things just to get the chance to get noticed."
Fischer said that the lyrics to Piano Man by Billy Joel is a perfect depiction of what Hollywood is like, saying that many people work themselves to the bone and never get their break.
It's not all famous girlfriends and VIP rooms, according to Fischer, although those were some benefits of his acting career. He also served as a "limo driver to the stars" when times were slow, driving people such as Whoopie Goldberg, Jennifer O'Neal, Boy George and more.
"I know a lot of people never get that chance that they're hoping for, so I feel fortunate to have been given that chance and that I got to experience all that I did in those 10 years."
When one curtain closes, another opens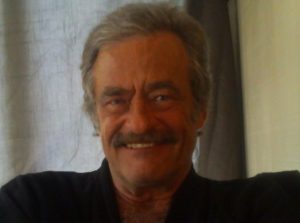 Fischer moved on from show business in 1993 and decided that "the computer stuff isn't going away." He was given the opportunity to sell a New Zealand product in the U.S., Krystal Air, and this led to a new adventure.
In an age where internet sales were just beginning to take off, Fischer had success selling the product all over the world, including in Japan, Korea, Germany and Canada.
When the company was sold to another corporation, he was offered a position as a cyber security analyst for the U.S. Army in the Middle East, which led to several positions after that.
Fischer now lives in Huntsville, Alabama where he works for the Department of Defense's Missile Defense Agency as a cyber security analyst on the Redstone Arsenal, a field that he sees rapid growth in.
"Always look for opportunities to improve yourself. You're never going to stop learning." Fischer said. "Getting my degree at Iowa State gave me a mindset of deducing problems, which has helped me throughout my career."
His certifications, including a CISSP, Security+ and MCP, give him some of the highest clearances in the Department of Defense.
"Nothing is ever done in vain. Nothing is ever worthless. Even though I'm not in an engineering position, I understand things more thoroughly with the technical knowledge that I learned at Iowa State," Fischer said. Fischer continues to get job offers even now and stays active on sites like LinkedIn. According to Fischer, exposing yourself to as many people and opportunities as possible is the key to finding new paths.
"Keep your eyes and ears open, stay ahead of the curve and understand that good opportunities are there for those who aren't afraid to take risks and adjust to change," Fischer said.