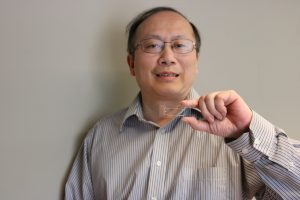 Iowa State University faculty recently won an award for their research in developing tests and assessments to help patients with blood disorders and bleeding risks. Xuefeng Wang from the Department of Physics and Astronomy, Dana Levine from Veterinary Clinical Sciences and Long Que from the Department of Electrical and Computer Engineering were the recipients of the 2017 McGee-Wagner Interdisciplinary Research Fund. The fund is offered through the Office of the Vice President for Research to help Iowa State researchers pursue new projects and go after external funding for their research and scholarship. With this fund, the group will receive $30,000 over three years.
Associate Professor Que said he was happy to be a part of this interdisciplinary research team.
"It was our great pleasure to win this award, which will allow us to develop a microfluidics-enabled molecular tension sensing technology for the diagnosis of platelet disorders and the prediction of bleeding risk in patients," Que said.
For more information about the award and the group's research, click here.