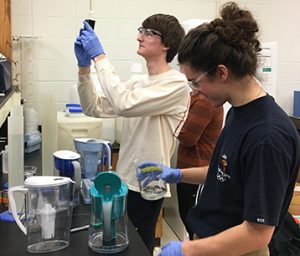 Freshman Research Initiative continues to grow in Iowa State's Department of Civil, Construction and Environmental Engineering (CCEE)
Freshman Research Initiative (FRI) keeps doors open. That's what Olivia Taylor has found.
"I would encourage others to take part in undergraduate research, or doing the FRI opportunity," she says. "I think a lot of the times, even though you've figured out your major, you're still unsure where you want to be in five years. And if you want to go into graduate school, and you decide your senior year that you want to do that, you might not be able to unless you have gotten the research experience that you need to continue on with your higher education."
"I think it's really important that you explore all of your opportunities and figure out exactly what you want to do and be confident about it by the time you graduate," she advises.
Taylor's FRI group is one of four environmental engineering-focused research teams taking part in this semester's guided projects.
"Everything that you're doing, you're doing because you designed it and you chose to do it," says Eileen Tyrrell, a fellow FRI participant. "So having that experience of designing your own experiment and running it by yourself is really cool."
Each group's study is unique. Tyrrell's group is studying how rooftop materials shed contaminates during storm events. Taylor's group is discovering possible correlations between E. coli colony growth rates in local streams and precipitation rates. Along with the labs (the most fun part of FRI, according to Tyrrell), both Taylor and Tyrrell agree that friendships and networking with faculty is top on the list of why students should take part in this research opportunity.
"We wanted to engage students early by having them work on real civil engineering problems in their first year," Associate Professor Chris Rehmann, one of the lead faculty members for the environmental engineering stream of FRI, says. "Also, the FRI provides a good chance for freshmen to build relationships with each other."
Freshman Research Initiative is in its third year at Iowa State University. Streams of around 15 students in introductory classes are co-opted into faculty members' research programs. During the fall and spring semester, students take part in both departmental and university-wide showcases. This semester's showcase took place on Apr. 26.
In Iowa State's Department of Civil, Construction and Environmental Engineering (ISU CCEE), there are two distinct streams: environmental engineering and transportation engineering. Rehmann and Assistant Professor Kaoru Ikuma co-instruct the environmental engineering stream. 
"I feel students should participate in the FRI because it provides an immediate and meaningful introduction to the CCEE program, to research, and to department faculty," Associate Professor Peter Savolainen, who instructs the transportation stream during the fall semester, explains.
"Everyone's kind of on the same track freshman year in engineering, and it kind of sets you apart …" Tyrrell sums up the FRI opportunity. "It just gives you an experience that you wouldn't get to have as a freshman and kind of a foot in the door with the department and with research."
---
This program is supported in part by a grant to Iowa State University from the Howard Hughes Medical Institute through the Science Education Program.
Get an inside look at more interesting student opportunities by following ISU CCEE on Facebook, Twitter and LinkedIn (Iowa State University Civil, Construction and Environmental Engineering and ISUConE).