Team "Cy-Onara" takes second in distance, first in poster competitions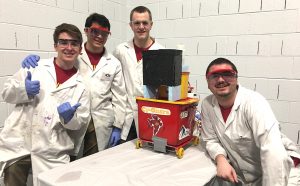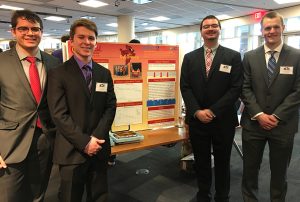 Student groups representing the Iowa State University Department of Chemical and Biological Engineering (CBE) descended upon the American Institute of Chemical Engineers (AIChE) Mid-America Regional Conference in late April.
CBE's Team Cy-Onara took second place overall in the Chem-E-Car distance competition and first place overall in the Chem-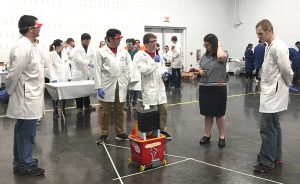 E-Car poster competition. With the second place finish in the distance competition the team qualifies for the national showdown at AIChE's 2018 Annual Meeting, October 28-November 2, in Pittsburgh, PA. This marks the third consecutive year an Iowa State entry will take part in that event.
The Mid-America Regional Conference brings together students from a number of Midwestern universities to take part not only in the competitions, but other development and fellowship events. The Chem-E-Car competition, always a highlight of the AIChE conferences, involves student-designed miniature vehicles that are both powered and stopped by chemical reactions.
The cars run on a straight-line course and distance from the finish line when the vehicle stops is measured, with the best result recorded. Team Cy-Onara (with a payload of 250ml of water on board), wound up 0.63 meters from the line on their second run.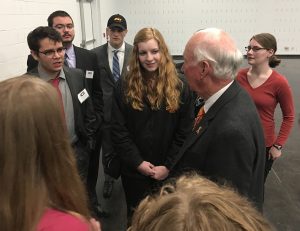 The success did not stop there for Team Cy-Onara, as their research poster detailing their Chem-E-Car project took first-place honors.
Getting their feet wet in the Chem-E-Car and poster competitions were the members of "Cinnamon Cyndaquils," composed of all freshmen undergraduates,
with the exception team leader Drew Smith, a junior. The look forward to taking part in more competitions in the future.
ChemE Jeopardy is another popular contest at the conference, with several ISU students competing.
The students also enjoyed meeting Dr. James Halligan of Stillwater, OK, an Iowa State chemical engineering alumnus (B.S.'62, M.S.'65, Ph.D.'67), member of the Department of Chemical and Biological Engineering Hall of Fame, and former Oklahoma state senator, who served as the keynote speaker at the conference.
The full list of Iowa State students who participated in the conference includes:
Vince Anderson (ISU AIChE president)
Martin Asama (vice-president, research poster presentation, participant in ChemE Jeopardy)
Jamie Pryhuber (ChemE car chair, participant in ChemE Jeopardy)
Maxsam Donta (research poster)
Team "Cy-Onara"
Tommy Krohn (team leader)
Daniel Dagle (participated in ChemE Jeopardy)
Francisco Arreola (an Electrical and Computer Engineering student, but a member of AIChE)
Grant Johnson
Team "Cinnamon Cyndaquils"
Drew Smith (team leader, also participated in ChemE Jeopardy)Anna Buchholz
Christopher Gelina
Taner Eiswald
Sarah Miller
Carmen Wilwert
Emma Hoffman