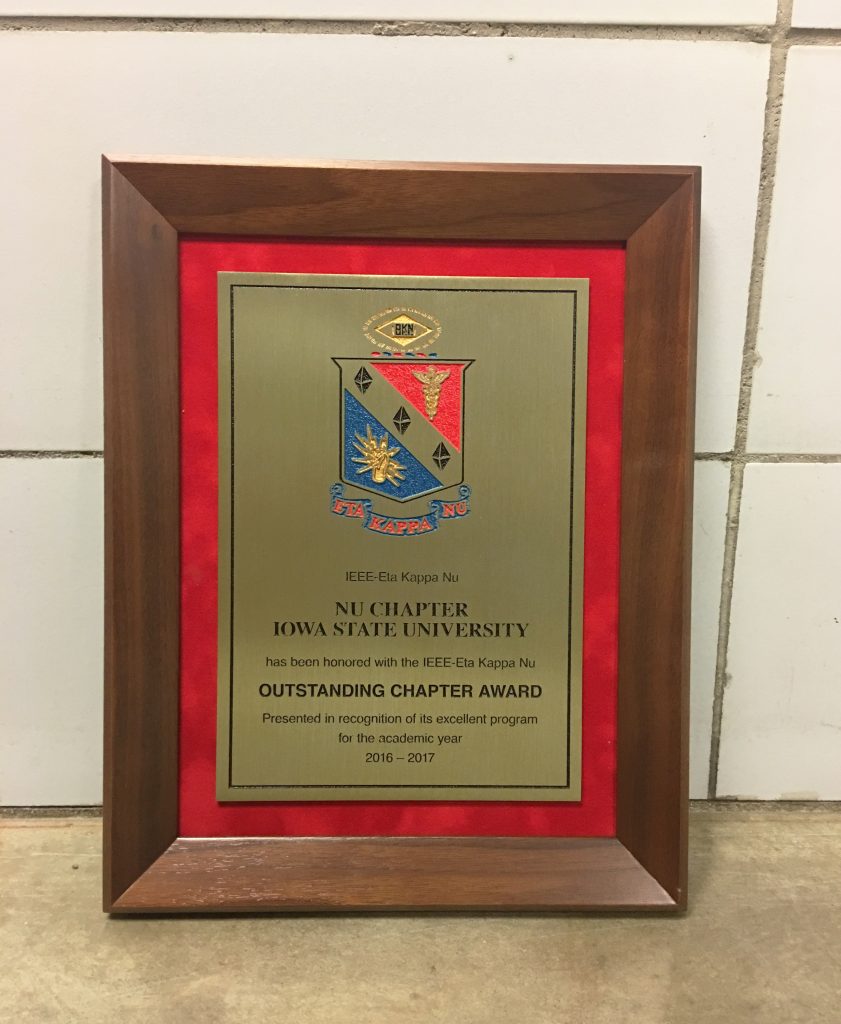 Iowa State University's chapter of the Institute of Electrical Electronics Engineering (IEEE)–Eta Kappa Nu (HKN) was one of 24 chapters awarded the 2016-17 IEEE-HKN Outstanding Chapter Award.  
"IEEE-HKN has around 250 chapters worldwide and about 20 chapters are selected each year to receive the IEEE-HKN Outstanding Chapter Award," IEEE-HKN Nu Chapter President Stephanie Engelhardt said. "This is the seventh year in a row and the 10th time overall that the Nu Chapter [Iowa State] has won this award."
The award is given to chapters based on their annual report. The reports of winning chapters not only highlighted chapter activities but also provided multiple views and examples of their work.
The Outstanding Chapter Awards evaluation committee looks for chapters who foster activities to improve professional development, raise instructional and institutional standards, encourage scholarship and creativity, provide a public service and overall further the goals established by IEEE-HKN.
"Yes, officers can plan events for the members and help coordinate volunteer efforts, but we would not win outstanding chapter without each and everyone of our members," Engelhardt said. "Although it is a great honor being the president of such a great organization, the success of our chapter should truly be attributed to the amazing members of the Nu chapter."
Engelhardt credits the success of the organization to all of the members who help complete volunteer hours. Last year the group had 1,219 volunteer hours, and this year they have surpassed that amount at 1,447. The Nu chapter of IEEE-HKN is hoping to continue the tradition of being an outstanding chapter.
"Our HKN chapter has had some tremendous student leadership over the years," Professor and Nu Chapter Faculty Advisor Joe Zambreno said. "Their consistent winning of the outstanding chapter award is a testament to that."
The award was presented to Professor and Palmer Department Chair Ashfaq Khokhar, who accepted the award on behalf of Iowa State on March 19 at the Electrical and Computer Engineering Department Heads Association (ECEDHA) Annual Conference in Monterey, California, at a special reception hosted by IEEE-HKN.