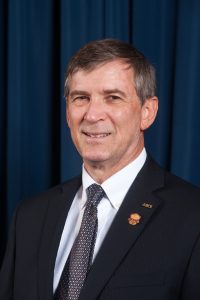 Ames, Iowa – Raymond "Paul" Giroux, Distinguished Member of the American Society of Civil Engineers (ASCE), is the 2018 inductee to Iowa State University's Construction Engineering Hall of Fame. With a Kiewit career spanning more than four decades, Giroux has helped build some of North America's most significant infrastructure. He has inspired a generation of American engineers and the public to fully appreciate the impact of construction engineering through his work as both an engineer and an esteemed civil engineering historian.
Sharing insight into great builders he has studied and with which he has worked, Giroux said, "I believe the most important thing that great builders build is people … We leave behind steel and concrete, yet our most important contribution is helping others with their careers."
Giroux began his career with Kiewit upon graduation from Council Bluffs' Lewis Central High School in 1974. After working summers as a laborer and engineering intern, Giroux started full-time employment in 1979 with Kiewit upon graduation from Iowa State University (ISU) with a bachelor's degree in construction engineering. In receiving hall of fame recognition, Giroux said that his journey from young engineer to successful professional was made possible, in part, by the aid of insightful advisors.
"It made me reflect on those that have helped me along the way," Giroux explained. "We all start here at Iowa State fairly green and with a lot to learn … I was fortunate throughout my career to have many strong mentors and people that have helped me along the way."
As a builder, Giroux played a key role in the construction of many notable heavy civil engineering projects, such as the Fort McHenry Tunnel in Baltimore, several projects on the Big Dig in Boston, the new San Francisco Oakland Bay Bridge East Span, and several hydroelectric powerhouses.
As an esteemed construction historian, Giroux has held key leadership and speaking roles at the anniversaries of several civil engineering icons, including the Brooklyn Bridge 125th, the Hoover Dam 75th, the Golden Gate Bridge 75th, and the Panama Canal 100th anniversary. As a student advocate, Giroux has presented more than 200 lectures and seminars at more than 60 engineering schools.
Giroux has served on the ISU Civil Engineering Advisory Board, the Transportation Research Board, and several ASCE committees. He is the recipient of numerous awards from the ASCE and was elected a Distinguished Member of ASCE in 2016. He received the Norm Augustine Award from the American Association of Engineering Societies in 2016 for his work as an engineering historian, and received the ASCE Roebling Award for outstanding contributions to construction engineering in 2017. Overall, he has served as a fine advocate for Iowa State University.
"There is something about the combination of the right type of faculty and the right type of students all coming together with an institution that's focused on producing good, solid engineers and good citizens as well," he said. "You see Iowa State alumni out in the world, making a difference in their communities every day."
For these reasons, Paul Giroux is the 2018 inductee into the ISU Construction Engineering Hall of Fame.
---
Find more alumni news on our Facebook, Twitter and LinkedIn (search Iowa State University Civil, Construction and Environmental Engineering and ISUConE).