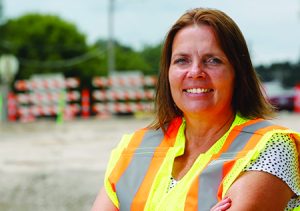 First woman director of Institute for Transportation shares experience as leader, ways to balance life and work
Shauna Hallmark proudly describes herself as a "geek" in school. She knew she wanted to work in the STEM fields.
Fast forward, and Hallmark is now the director of Iowa State University's Institute for Transportation (ISU InTrans). She is a professor of transportation engineering at ISU's Civil, Construction and Environmental Engineering Department. Not only that, but Hallmark has balanced a successful engineering and academic career with raising a family. Even so, her status as first woman director of a national, multi-million dollar research institute isn't the first thing on her mind.
"When I was younger, women were breaking barriers, like the first woman astronaut, the first woman this, the first woman that," she remembers. "You wanted to be able to say, 'Cool! I was the first woman.' But I didn't even know that I had occupied that status. I didn't think about it."
Hallmark attended Brigham Young University for her bachelor's degree and then went on to earn her master's and doctoral degrees from Utah State and Georgia Tech, respectively. In fact, she started her master's degree with a two-year-old and twin two-month-old infants.
"I remember going to a test and not having had any sleep, because somebody was up all night sick," she recalls. "I don't even know how I did it."
After coming to Iowa State in 2000, Hallmark earned tenure by 2006 and became a full professor in 2012. She would go on to earn the InTrans director position in 2014. She has achieved countless awards and honors, including recognition from the Transportation Research Board Executive Committee and the Iowa Governor's Traffic Safety Bureau. She currently holds the Robert S. and Roxann L. Paulsen Professorship in Civil, Construction and Environmental Engineering.
It's obvious that Hallmark doesn't back down from a challenge easily. Still, she says one of the greatest strengths of a leader is to know when to compromise.
"One thing that I've learned is that the way I approach problem-solving is more collaborative than my male colleagues sometimes …," she says. "When people need to solve things, I'm not afraid to back down or say, 'OK, I'm sorry. Let's just try to make this better,' or give up a little bit of power so that everybody can reach a solution. "
She encourages engineers, both women and men, to find a balance between professional and personal goals. She also has a special message for women engineers. Instead of downplaying abilities, Hallmark wants women to play to their strengths.
"I think the one thing that I would always tell women is, don't doubt yourself," she insists. "So, you can do and be anything that you want. Just learn balance, go for it, and don't let other people tell you what you can be."
---
Want to find more STEM change agents like Shauna Hallmark? Follow us on Facebook, Twitter and LinkedIn (Iowa State University Civil, Construction and Environmental Engineering and ISUConE) for the latest game changers in engineering.