On campus and in Ames community, construction engineering senior shares ways to give back
Julie "JP" Penton's day is made when she can help someone else.
"If you can make someone else feel better, then that in itself is the best thing that you can do," she says.
It's a defining part of her ISU experience. In her four years here, Penton has been involved in many student organizations. That includes Iowa State's Associated General Contractors (AGC) Student Chapter and Cyclone Energy, a competition team of ISU's National Electrical Contractors Association Student Chapter (also known as GEC, for Green Energy Challenge). In each group, she has taken part in community service.
"AGC, their volunteering trips are amazing," says Penton, referring to AGC's fall and spring service trips, which are hosted during the corresponding school breaks.
"We volunteer for projects such as the university childcare center here on campus," she says. "That's our new project for GEC."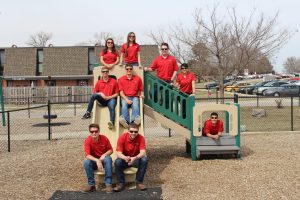 The construction engineering senior remembers her freshman year at Iowa State University (ISU). In her first week on campus, she went around knocking on doors, getting to know everyone on her dorm floor. That go-getter, get-to-know-you attitude has followed Penton throughout her college career.
"One of the most unique parts of getting a construction engineering degree is how close the community is … " she says. "I could walk into a class and know three quarters of the class already."
Penton grew up in Des Moines, Iowa. She has volunteered to go back to her high school to mentor students on the importance of pursuing a college degree.
"It makes me not only feel good, but it helps the community," she summarizes.
---
Note: In March-May 2018, Iowa State University College of Engineering Communications is setting out to find the top reasons why undergraduate students choose to pursue their educations at ISU CCEE. "Engineer at ISU CCEE" is a video/written series featuring undergraduate students from ISU CCEE's two majors, civil and construction engineering. Each student shares his or her unique reason for choosing Iowa State. Find out about the student experience at ISU CCEE by following us on Facebook, Twitter, and LinkedIn (Iowa State University Civil, Construction and Environmental Engineering and ISUConE).