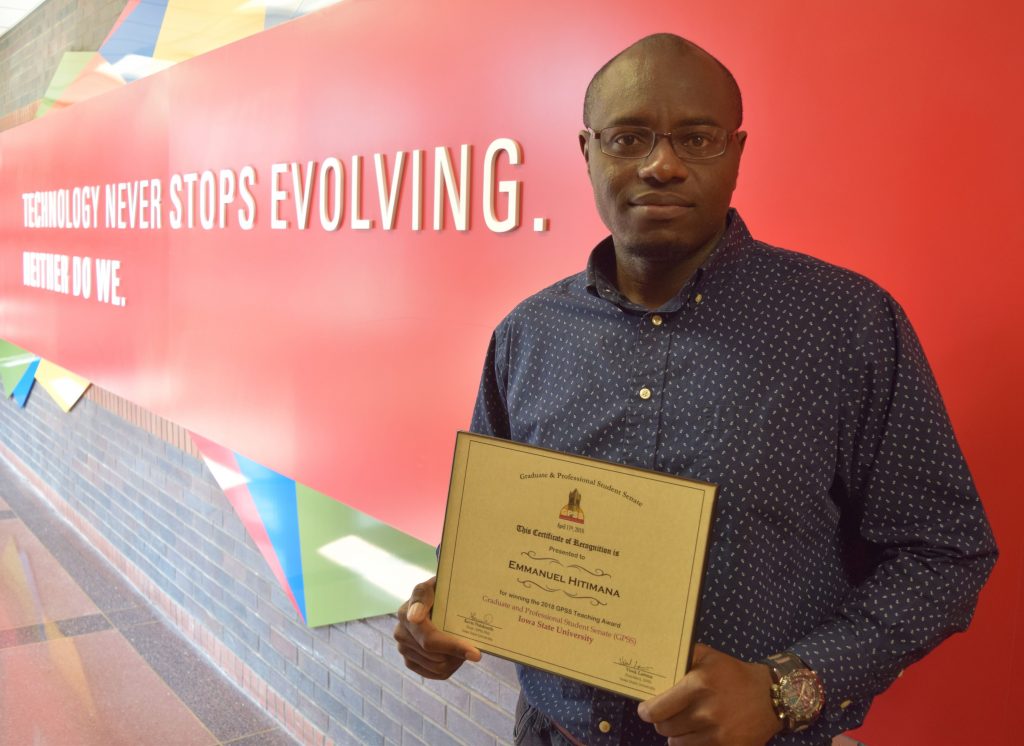 A mechanical engineering graduate student is the most recent recipient of Iowa State's Graduate and Professional Student Senate's Teaching Award.
Emmanuel Hitimana, a PhD student, was among five candidates selected this semester for the honor. He currently serves a teaching assistant for the lab component of ME 421: System Dynamics and Control.
"When I got notified about the award, I was very excited. It feels great to be recognized for your hard work," said Hitimana. "Being one of the few to be chosen for such a competitive award is also humbling."
Hitimana, who has also taught ME 335: Fluid Mechanics and engineering thermodynamics, said that conducting experiments and explaining them to students is his favorite part of teaching. He grew up in the East African nation of Rwanda and developed an interest in mechanical engineering while in high school.
"I always wanted to apply mathematical and scientific theory to solve real world problems," he said.
He attended William Penn University in Oskaloosa, Iowa for his undergraduate studies, majoring in Industrial Technology with an emphasis in engineering technology and a minor in mathematics. He then earned his MS in mechanical engineering with a thermo-fluid since emphasis from the University of North Dakota.
He first came into Iowa State in spring 2015 and plans to graduate with his PhD in mechanical engineering with a thermos-fluid emphasis by 2019. He said Iowa State and ME were easy decisions for him because of the reputation of the university's engineering program and the versatility that the ME field offers.
"I like the way mechanical engineering is very diverse and eases collaboration across different disciplines," said Hitimana. "Most importantly, mechanical engineering opens path to many research and career opportunities."
After graduation, he hopes to continue to do research either in industry or for a large research institution. Someday he hopes to become a university professor or even pursue entrepreneurial opportunities.