Sophomore student finds abundant opportunities early on in college adventure 
It's only Michael Volk's sophomore year of college at Iowa State University (ISU). Yet Volk has seen his name as first author on a research paper and has taken leadership positions in the campus chapter of the American Society of Civil Engineers. He is also currently involved in the University Honors Program and is on co-op with the Iowa Department of Transportation (I-DoT) within its office of traffic operations.
"What I like, really, about civil engineering is that it's always a collaborative environment," Volk says. "There never seems to be a competition among the students. It's not, 'I can do it better.' It's, 'Well, we can get this done, and we can do well. Let's do it together.'"
Volk's research experience is especially unique. He started research as a freshman and will admit that the beginning of the research process can be a bit daunting. Literature review, for example, can seem overwhelming at first due to all the new material, he says; however, the civil and construction engineering faculty with which he has worked are always willing to give direction.
"I've just enjoyed it because, if I have questions about something, they're always willing to help me," he says.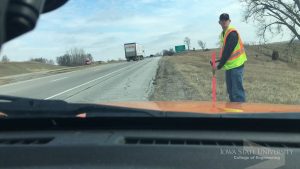 Along with research, Volk has be an active leader in ASCE. It's an opportunity that teaches leadership and valuable communication skills.
"I'm really happy that I came to Iowa State because of the people I've met, the faculty and then also because of the opportunities that I've gotten …" Volk explains. "There's lots of opportunities to explore and learn about yourself here."
---
Note: In March-May 2018, Iowa State University College of Engineering Communications is setting out to find the top reasons why undergraduate and graduate students choose to pursue their education at ISU CCEE. "Engineer at ISU CCEE" is a video/written series featuring students from ISU CCEE's two majors, civil and construction engineering. Each student shares his or her unique reasons for choosing Iowa State. Discover more about the student experience at ISU CCEE by following us on Facebook, Twitter, and LinkedIn (search Iowa State University Civil, Construction and Environmental Engineering and ISUConE).