Ralph F. Schlenker died on March 16, 2018, in Indianola, Iowa, at the age of 90. Schlenker was an alumnus of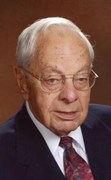 electrical engineering with the present Department of Electrical and Computer Engineering at Iowa State University, graduating in 1949. 
He worked with the Iowa Power & Light Co., starting as a student intern upon graduation, serving as western division manager in Council Bluffs, Iowa. He then became senior vice-president and executive vice-president of the group and later retired as vice-chairman of Iowa Resources.
Schlenker was influential in the establishment of the Midwest power grid by helping to design interconnections to the hydroelectric dams in North and South Dakota in the 1950s and 1960s.
He was a lifetime Cyclone, holding season tickets for football and men's basketball, and was also named an Honorary Faculty Member of Engineering at Iowa State.
Read more about his life here.